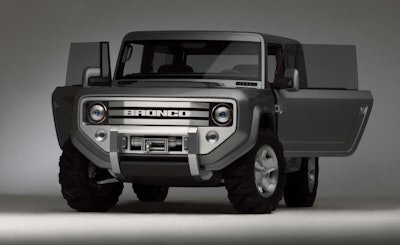 Like Santa Claus and the Easter Bunny, rumors of the return of Ford's long-shuttered Bronco and Ranger pickup surface at least once a year.
Citing "a person familiar with company's plans", Bloomberg reported yesterday plans for the North American return of the Ranger midsize pickup and the rebirth of the Bronco have heated up as Ford navigates its way through union contract talks.
The Detroit News corroborated the report of the Ranger's possible return.
Bloomberg says the two could be manufactured in Wayne, Mich. as soon as 2018, replacing passenger car output that is likely being shifted to Mexico.
Ford has found success with throwbacks in the past, having reignited sales of its iconic Mustang when the company gave the car retro fastback styling in 2005. Also, the runaway success of General Motors' Colorado and Canyon has likely not gone unnoticed at Ford, who hasn't had a mid-size pickup entry in the U.S. since Ranger was shuttered in 2011.
Ford officials didn't offer comment Wednesday, but the groundswell of public support to bring these two vehicles back gets louder every year. With the company seemingly in need of a concession to give its union, and with the resurgence of the mid-size truck market, that could be the perfect storm that gives the Ford enthusiasts what they've longed for.