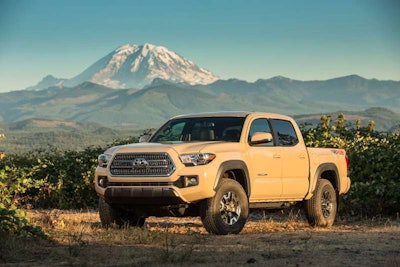 On-road and off, Toyota's newest generation Tacomas bring more power and capability to the mid-size pickup segment; new V-6 40hp and 2mpg better than previous model
Toyota has always taken their time when it comes to making generational changes to their pickups, the Tacoma being no exception.
In fact the last time the company's best selling mid-size pickup saw any significant changes was in 2005 when the "second-generation" Tacoma, which was first introduced in 1995, rolled out with a new powertrain and body design.
A decade between vehicle upgrades is a long time when most manufacturers make a rejuvenation cycle every four -to five years.
So I was excited to see how the 2016 Tacoma had evolved from the previous model. A day of on- and off-road driving the new trucks, all V-6 automatics, brought a lot of smiles and admiration, along with a few disappointments.
"For more than 50 years adventure-seeking Americans have relied on Toyota trucks to take them places, on and off-road," said Bill Fay, group vice president & general manager, Toyota Division. "The all-new homegrown Tacoma is a tough truck designed, developed and built for lifestyles of the young and young-at-heart."
Tacomas have also found favor among the work truck audience because of their build quality, fuel economy, off-road prowess and maneuverability.
The 2016 Tacomas enhance those very attributes.
A STRONGER TACOMA
Toyota's engineering team at Toyota Technical Center in Ann Arbor, Mich., started the new truck's overhaul by adding high-strength steel to help enhance rigidity and overall strength of the frame. Then ultra-high-strength steel was integrated into the body shell for the same reasons, using a new hot stamping process that reduces weight.
The resulting driving nuances between the old truck and the new model are noticeable in that you don't feel as much flex in the 2016s driving over harsher, more demanding road surfaces.
The new suspension in the TRD 4×4 models, which I spent the majority of my time driving, are noticeably better than the previous generation.
The upgrades in shock valving in the Bilstein shocks, the electronic-locking rear differential, and updated spring rates (coils front/leafs rear) make pavement pounding and off-road jaunts far less nerving than you have in competitor's mid-size 4x4s.
Combined with the stiffer chassis and cab, I feel the new suspension tuning gives the 2016 Tacoma an edge over the Colorado/Canyon.
NEW V-6 ROLLS OUT
One of the few disappointments is the new 3.5L direct-injection "Atkinson Cycle" V-6. The Atkinson Cycle allows the engine to switch seamlessly between port- and direct-injection, which helps maximize fuel economy and keeping injectors clean.
The new engine isn't as strong or fuel efficient as the GM 305hp Colorado/Canyon V-6. Still, the new 3.5L 278hp Tacoma V-6 is 42hp stronger than the 236hp 4.0L it replaces.
But you have to rev the new engine to 6,000rpm to bring all those ponies to life, while the previous engine's power peak was 5,200rpm.
Meanwhile, the torque output of the 3.5L remains essentially the same as in the old 4.0L at 265 lbs/ft., so it doesn't feel all that much stronger off the line.
Again, that torque peak comes in about 600rpm higher in the power band than the previous 4.0L Toyota V-6.
In my opinion the new Tacoma responds to throttle very similar to the 2015s with the 4.0L.
Where the new engine, with the equally new six-speed automatic, has the edge is fuel economy, besting the previous model's 4.0L/5-speed combo by 2 mpg with an 18/23/20 EPA fuel-economy rating. (The estimated mpg for the 4×4 manual is 17/21/19.)
For those pinching pennies, the new Tacoma still offers the 159hp 2.7-liter DOHC four-cylinder that delivers an EPA estimated city/highway/combined mpg for the 4×4 with a manual transmission of 19/21/20 and 19/22/20 for the automatic.
The new V-6 powertrain also gives the Tacoma an additional 300 pounds of trailering capacity, bringing the 4×4 Double Cab 4×4 up to 6,800 pounds when using a weight-distributing hitch.
MAKING A BOLDER APPEARANCE
When it comes to looks, Toyota's designers did the new truck proud. Inspired by desert racing, CALTY designers in Newport Beach, Calif. and Ann Arbor, Mich. made Tacoma's wheel flares much more prominent for greater wheel travel and the high-lift image.
The front end portrays an aggressive attitude with its bold upper grille and a taller, more muscular hood.
Mounted high above the redesigned front bumper sit slim, high-tech headlights that feature projection beam lamps with available LED Daytime Running Lights.
From behind, the new locking tailgate emphasizes Tacoma's wide stance and tough image. The tailgate features an integrated spoiler for improved aerodynamics and a stamped Tacoma logo. The tailgate also adds an easy lowering feature, which allows it to slowly retract, preventing it from slamming down.
Of interest to work truck buyers, Tacoma will offer an optional factory-installed tri-fold hard tonneau cover for securing gear when you're away from the truck. A first for Tacomas.
Tacoma's tough exterior is complemented by an interior that conveys a sport truck image reflecting an athletic, go anywhere, off-road feel.
One thing I noticed right easy is the new Tacoma looks lower than Colorado/Canyon, but in reality, both are within an inch of each other in all dimensions. What gives the Tacoma a lower look is the high belt line and slimmer windows.
Seating is also a bit different. You sit low to the floor in the new Tacoma compared to other mid-size pickups – and Toyota doesn't offer power seats, not even in the top-of-theline Limited model. Another small disappointment.
However, Toyota designers have added more support to the seat bottoms and made some other changes to the seating to make the truck more comfortable than the previous model.
The interior overall is quite nice. The TRD models I drove featured soft-wrapped trim and metallic accents, giving the interior a high-quality look and feel. The gauges and controls are easily reached and nicely arranged.
There's also an array of available premium features. Among them are:
Qi wireless charging
Smart key with push-button start
Leather-trimmed seats
Power tilt/slide moonroof
Dual-zone automatic climate control
Enhanced touchscreen audio
Blind-spot monitor with Rear Cross Traffic Alert
Another pleasant surprise: The 2016 Tacomas are noticeably quieter than the previous models. Toyota engineers used a multi-layer acoustic windshield and sound-absorbing headliner along with a floor silencer pad to help reduce road noise.
I noticed there's still tire/road noise coming up from the the rear of the cab in the 4×4 Double Cabs I drove. But it's far quieter driving than the 2015s.
PLENTY OF MODEL OPTIONS
There's no shortage of 2016 models from which to choose. The new Tacoma will be available in 29 configurations in two cab types, the extended Access Cab and four-door Double Cab. Each cab will be available in both 4×2 and 4×4 configurations.
In addition, Tacoma will now be available in five model grades, each with its own personality and unique look:
SR (base/work model)
SR5 (the iconic model)
TRD Sport (has hood w/scoop)
TRD Off-Road (has locking rear diff)
Limited (leather interior)
Two bed configurations, short (60.5″) and long (73.7″), are available in al models except the Limited, which is only available with the short bed. The 4-cylincer, SR Access Cab model can be ordered with the Utility Package that removes the rear seats and adds back door handles bumpers and fixed rear window.
Tacoma's two TRD grades are inspired by Toyota Racing Development's more than 35-year history in desert off-road racing and a heritage of vehicles that have helped offroad enthusiasts conquer the toughest terrains in the most remote locations around the globe.
The TRD Off-Road 4×4 model is my favorite. It's the only model Tacoma that comes with an electronic locking rear differential and a hydro-boost brake system, both of which add whole new level of traction and performance on and off-pavement.
The TRD brake system helps actuate the front disc/rear drum brakes instantly with a lot of pressure, where as the traditional vacuum-boost system reacts much slower and with less pressure.
Fast, powerful braking is essential to making Crawl Control effective.
TRD models also feature Toyota's Multi-Terrain Select (MTS) system (automatic transmission only) that allows the driver to choose between different types of terrain such as loose rock, or mud and sand.
Each input regulates wheel spin by adjusting throttle and brake pressure to provide maximum traction on almost any terrain. It work amazingly well and makes the average driver look like a pro when driving conditions get dicey.
That, along with Crawl Control, put the 4×4 Tacoma's traction capabilities at the top of any of the mid-size pickups.
For those who work their Tacomas, the towing package-equipped V6 models come with a Class IV towing receiver hitch with transmission oil cooler with water and air cooler, 130-amp alternator (manual transmission only), 4- and 7-pin connector, and Trailer-Sway Control.
On the fun side, Tacoma buyers will now have the opportunity to capture their adventures on video as every Tacoma will come standard with a GoPro® mount located near the rear-view mirror. You just need to supply the camera.
Standard on all Toyota models is the Star Safety System™, which includes Vehicle Stability Control (VSC), Traction Control (TRAC), an Anti-lock Braking System (ABS), Electronic Brake-force Distribution (EBD), Brake Assist (BA), and Smart Stopbrake override technology (SST).
2016 PRICING
The manufacturer's suggested retail price (MSRP) for the 2016 Tacoma 4×2 will range from $23,300 for the SR Access Cab with a 2.7-liter 4-cylinder engine and six speed automatic transmission to $34,745 for the Double Cab Limited 3.5-liter V6 with a six-speed automatic transmission.
The MSRP for the 2016 Tacoma 4×4 will range from $24,825 for the SR 4-cylinder engine with a five-speed manual transmission to $37,820 for the V6 Limited with the six-speed automatic.