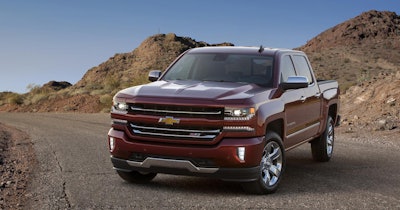 Less than five months from a redesign of its flagship Silverado pickup, Chevy is seeing a sales resurgence.
Chevrolet pickup sales have jumped 32 percent this year and significant updates are on deck for the 2016 Silverado 1500 full-size pickup.
"New front end designs with bold horizontal elements, sculpted hoods and dramatic lighting reflect the strength and refinement that have helped make Silverado the fastest growing full-size pickup brand this year," says Sandor Piszar, marketing director for Chevy Trucks.
Other expected changes for 2016 will include expanded use of an 8-speed automatic transmission, updated Chevy MyLinkwith support for Android Auto and Apple CarPlay, and additional safety technologies.
GM says the redesign of the 2016 Silverado 1500 is part of an aggressive strategy to build on Chevy Trucks' momentum.
Since the introduction of the all-new Silverado 1500 in the spring of 2013, Silverado sales have grown by double digits, on a percentage basis, each year. Through June of this year, Silverado sales are up 14.6 percent. Chevrolet also sold 41,575 midsize Colorados during the same period.
More product details will be available this fall, closer to the public debut of the redesigned 2016 Silverado 1500.