Ford says its next model year Super Duty will offer the company's most advanced camera technology, helping with lane-keeping assistance and enabling customers to see more angles around a truck and trailer than ever before.
The next Super Duty will feature up to seven cameras and all-new digital architecture.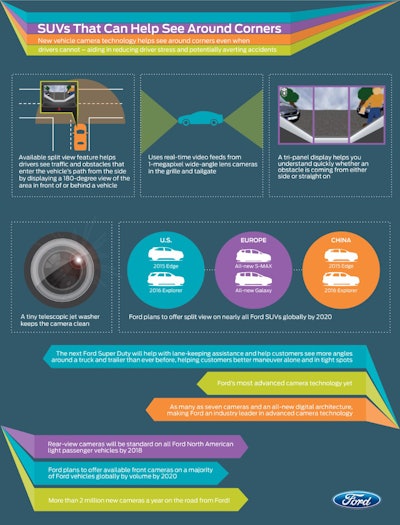 The 2016 F-150 has up to five cameras available, the most of any vehicle in the Ford lineup. Four cameras in F-150 are mounted in the outside mirrors, and rear and front of the vehicle to enable a 360-degree view and backup view functions.
A forward-looking camera mounted behind the rearview mirror is used to activate auto high beams and lane-keeping assist, which looks for lane deviations. The driver never sees the image from this camera, but the vehicle's computer uses the visual signal to operate the rest of the system.
Camera technology also is a key enabler in Pro Trailer Backup Assist available on the 2016 F-150, which helps a customer steer the trailer with a control knob while the truck steers its wheels.
Dynamic Hitch Assist is another F-150 feature that uses cameras, providing a center sight line in the display that helps the driver properly line up the truck to the trailer to hitch up.
Each camera component is subjected to more than 1,000 hours of testing to make sure it can withstand temperature changes, humidity, dust, salt and more. Ford engineers also immerse cameras to confirm the casing does not let water leak in.
Ford is introducing new vehicle camera technology that can help see around corners even when drivers cannot, aiding in reducing driver stress and potentially averting accidents.
The new available split-view camera feature helps drivers see traffic and obstacles that enter the vehicle's path from the side by displaying a 180-degree view of the area in front of or behind a vehicle. It is the latest example of how Ford is using camera technology to help make driving easier.
Split view uses real-time video feeds from 1-megapixel wide-angle lens cameras in the grille and tailgate. A tri-panel display in the 8-inch screen helps customers understand quickly whether an obstacle is coming from either side or straight on. Split view is activated at the touch of a button and automatically shuts off when vehicle speed reaches 6.2 mph (10 kph).
Ford introduced split view on the 2015 Ford Edge and 2016 Explorer in the United States and China. Front split view is offered on Edge. Front and rear split view comes standard in the United States on the 2016 Explorer Limited on sale now and Explorer Platinum, on sale soon. Front split view is coming to the all-new Ford S-MAX and Galaxy in Europe, available to order now. Split view will be offered on nearly all Ford SUVs globally by 2020.
A tiny telescopic jet washer keeps the front camera clean on every vehicle with split view. Explorer also incorporates a washer for the rear camera.