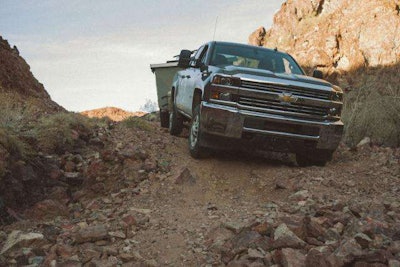 Mark Christy and Nives Riddles left behind their jobs in Philadelphia to travel through Arizona's Badlands.
The couple are documenting their trek through Sierra Nevadas in their 2015 Silverado 2500 on their personal blog Camp by Camp.
Christy was in commercial movie and TV production for NFL Films. Riddles was a makeup artist for high-fashion clients. Christy grew up near the Adirondack Mountains, and always loved the outdoors. Riddles grew up in Croatia, and fell in love with the natural beauty of the U.S. On an early date where the two attended a friend's wedding in Arizona, the couple decided to make a long weekend of it and hike the Grand Canyon.
"While we were there, we both had that moment of not wanting to go back to work. We wanted to stay until we were sick of it," said Christy. "Ever since that trip we kept building the fantasy of camping until we just couldn't stand it anymore."
It wasn't long after Christy was on location for a video shoot on an excruciatingly hot field, and he decided he had finally had enough.
"I pulled my phone out and shot Nives a text," said Christy. "I just said, 'We have got to do something different.'"
Shortly thereafter, Christy and Riddles sold everything they owned – save for the camping gear, of course – bought a small military trailer and converted it into a mobile living quarters. That was no small task, considering the two of them had never built anything. The conversion occurred in Christy's parents' driveway.
A key element of their mobile rig is a 2015 Silverado 2500 HD, tasked with getting both the couple and their home wherever they want to spend an evening – or a few days.
"The truck has gotten us everywhere we have wanted to go," said Christy. "It's completely stock, and has yet to be bogged down or leave us stranded."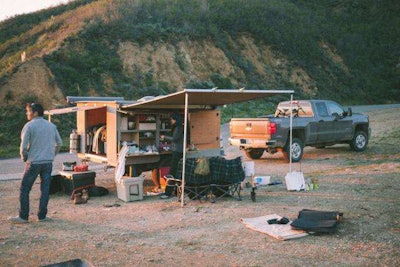 To Christy, a reliable tow rig is essential. "We end up in places where it could take hours to walk to a road to flag someone down, let alone get someone out to the truck for help," said Christy.
As for where the couple is going next, Christy says there is no real plan. "I start each morning by looking at Google Maps, searching for two-track routes in the general area we want to go to, pick one, and start driving," he said. "It really helps to have a truck you can trust will get you wherever that may be."
Despite some family members and coworkers thinking the trip a pie-in-the-sky idea, close friends knew Christy and Riddles were serious. To Christy, the most surprising part of the journey has been people more than willing to offer a helping hand with changing a tire, or teaching them the ins and outs of an airplane.
"It feels so different than the city, where it feels like people are out to get you," said Christy. "Out here, people are so helpful."
When does this adventure end? Much like the trip itself, there's no concrete plan for that either. "We sold everything we own to get out here," said Christy. "So there's nothing for we have to go back to. We're just going to keep going until we don't want to anymore."