[youtube 7meUiCOOlVE nolink]
Mile Marker hydraulic winch & heavy-duty front bumper add protection and massive pulling power to Ford Super Duty F-250
By Bruce W. Smith
Winches are an integral work tool and a safety necessity for anyone who uses their pickups in the road building, timber management, professional landscaping, site development and construction trades.
They are also a must-have tool for municipalities and utility companies.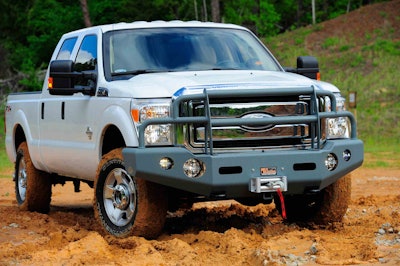 A pickup outfitted with a heavy-duty winch brings both self-sufficiency and efficiency to bear in situations that might otherwise call for additional vehicles and manpower to resolve.
One step toward that goal is outfitting a truck with strong front-end protection and a lot of pulling power at the ready. Most of you immediately think that means the addition of a stout custom winch bumper and a big electric winch.
Well, you are partially right.
The best heavy duty winch for those long, hard pulls is hydraulic, not electric.
HEAVY-DUTY BUMPER
The first stage is selecting a good heavy-duty bumper to hold the winch. A good choice: Buckstop Truckware out of Newburg, Oregon. Buckstop is renown for their custom heavy-duty bumpers that are made right in their own fab shop.
The fully-welded, 190-pound-plus bumpers are built from 1/4-inch steel in the center where the winch mounts with 3/16-inch used on the wings.
On top of that sits a stout 2-inch tubular grille guard bolted in place so it can be removed to access the grille or radiator. Buckstop also incorporates a 2-inch front receiver into the bumper's design.
HYDRAULIC WINCH
The other item for that strong winching setup is a hydraulic winch. There aren't that many to choose from, but one of those options is a proven winner: the 70 Series H12000 from Mile Marker.
The H12000 is a great choice for any Ford F-250 Super Duty Crew Cab 4×4.
Why hydraulic winch instead of the more traditional electric variety? Reliability.
Electric winches are excellent choices for those who use them for pulls of very short duration. But when an electric winch is subjected to long, hard pulls, its Achilles heel is the solenoids and electric motor.
Those components are what fail if the winch operator isn't paying close attention to the heat build up inside the winch as it's being worked.
The other pitfall of an electric winch is the tremendous load it places on the truck's electrical system; the bigger the winching task, the faster the batteries are drained and the less efficient the winch becomes until everything slows to a halt. Dead batteries, dead truck.
A hydraulic winch doesn't have those issues: A hydraulic winch will deliver full pull as long as the pickup's engine is running and the power steering pump operating.
The H-Series two-speed hydraulic winch delivers six tons of pull on the first wrap in Low gear and 7,000 pounds on the outer cable wrap. Slip the 110-pound H12000 into High and you can still pull 2,000 pounds while retrieving the 100 feet of 3/8-inch cable up to 48 fpm.
Spooling the cable in and out is velvet smooth and silent.
The installation requires plumbing into the Ford's power steering box and pump using Mile Marker's 35 Series adapter kit.
Setting up the hydraulic winch isn't a difficult job. But it does take about twice the time as installing an electric model because of running hoses and the installation of the solenoid-activated control valve.
(Note: You can simplify the installation and shorten install time by ordering the 75 Series HI winch with the integrated solenoid valve.)
MORE WORK LIGHTS
The Buckstop Classic II bumper comes ready to mount 6-inch lights. But we opted for a second set of buckets cut into the wings to accept 4-inch fog/work lights.
PIAA, which is the same company Buckstop partners with for customers who want auxiliary driving or fog lights, set us up with a pair of 510 Plasma Ion Yellow fog lamps for the smaller outboard buckets and 520 Xtreme White Plus SMR driving lights to fill the larger inner ones.
Both are 55-watt halogens in black housings with pre-wired harnesses for easy installation.
With the Buckstop heavy-duty bumper, Mile Marker hydraulic winch will make any Ford Super Duty Crew Cab 4×4 the envy of anyone on a jobsite. — Bruce W. Smith
CONTACTS: