SHORT TAKE: How to modify a soft tonneau cover to fit short-bed pickups with toolboxes
Improving fuel economy, protecting items in the bed from flying out, and keeping wandering eyes from lusting after things that aren't theirs are just three of the many reason's pickup owners love tonneau covers.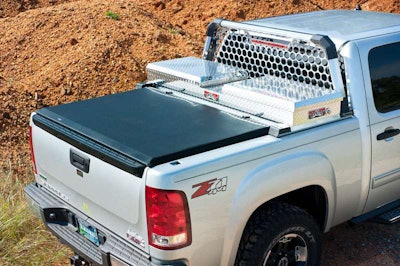 Tonneau covers are available for just about every pickup made, longbed or short, regular cab, extended cab or crew cab.
But sometimes we have need of a soft tonneau cover that accommodates a crossbed toolbox or refuel tank – and those "shorty" tonneaus aren't that readily available.
That's where customizing an existing cover to fit comes into play.
Truck Supply & Outfitters (TSO) in Tuscaloosa, Alabama, has been addressing customer's custom needs for years, including making tonneaus fit special applications.
We followed them as they took an Access roll-up tonneau cover and modified it to fit a customer's 2011 GMC Sierra that already had a toolbox and custom headache rack installed.
TSO measures the "open" bed from the toolbox to the tailgate and then shortens both the roll-up tonneau and the mounting rails accordingly.
Such customizing requires shortening the aluminum side rails that hold the cover in place as well as having a local automotive/marine upholstery shop shorten and re-stitch the soft cover.
The result is a shorty tonneau cover that looks and functions perfectly fine on a shortbed pickup outfitted with a crossbed toolbox.
Check out the images in the gallery at top for step-by-step instructions.