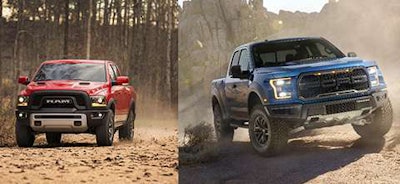 Lower gas prices and a bubbling economy have led to improved pickup sales, and boosting sales have led automakers to color increasingly outside the lines in search of a broader customer base.
Pickups aren't just for work anymore. They're now, possibly more so than ever before, daily commuters and toys for off-road enthusiasts.
Hardcore enthusiasts will tell you that you can't buy a good off-road vehicle off a dealership lot; that up-fitting is a critical element. And that may be true for the sand dune-hopping elite, but here we're going to take a look at two new-to-the-marketplace off-road trucks that you can drive off the lot straight to the ravine; Ford's revamped F-150 Raptor and Ram's 2016 Rebel.
At their launch, and from a distance, Raptor and Rebel appear remotely similar. Common exterior features like block lettering across the grille are hard to ignore. But upon closer inspection, the two pickups could hardly be more different.
Under the hood
Ford revamped its F-150 Raptor for the 2017 model year, giving it a boost in horsepower and torque. Gone is the 411-hp 6.2-liter V-8 engine, which has been traded in for a high-output Raptor-exclusive 3.5-liter EcoBoost engine. Ford actually dropped two cylinders for 2017 but is expected to squeeze 40-plus more horses from the direct-injection twin-turbo engine.
Ram's Rebel package is available the 305-horsepower, 3.6-liter Pentastar V6 and the 395-hp, 5.7-liter Hemi V8; both fairly common options in Ram's lineup.
The 5.7-liter Hemi has been a fixture in several Chrysler high-performance cars over the years, including the Magnum R/T, Charger R/T and Challenger R/T. In contrast, Ford's new high out-put EcoBoost is slated to power the next-generation Ford GT.

Off-road capabilities
The next-generation Raptor comes standard as a four-wheel drive and is outfitted with 3-inch internal-bypass Fox Racing shocks and standard 17-inch BFGoodrich All-Terrain T/A KO2 tires (LT315/70R17) designed specifically for the truck. Raptor is 6 inches wider than the standard F-150 for improved stability off-road.
Rebel, offered in both two- and four-wheel drive, also rolls on 17-inch aluminum alloy wheels (wrapped in Toyo Open Country A/T II 285/70R17 tires), and features your basic upper and lower "A" arms, air suspension and stabilizer bar up front and five-link with track bar, air suspension, stabilizer bar and solid axle in the rear. It's equipped with factory lift, Bilstein shocks, skid plates, tow hooks and "other off-road-ready features," according to Ram.
Raptor offers a ride height of 10.3 inches. Ford hasn't released ground clearance numbers, but promises they'll be Best in Class.
Rebel will give you 6.9 inches of ground clearance without a skid plate (6.2 inches with skid plate).
Shifting gears
The 2015 Ram 1500 Rebel comes with an automatic 8-speed, with adaptive electronic control, and automatic or Electronic Range Select (ERS) manual control. The transmission features a five clutch-pack design with only two open clutches in any gear and a torque converter lock with turbine torsional damper for low lock-up speeds in first through eighth gear.
Raptor's EcoBoost power plant is matched with Ford's 10-speed automatic transmission and a new torque-on-demand transfer case which manages power distribution between the front and rear wheels. The standard all-new Terrain Management System allowing drivers to easily optimize the driving dynamics of the Raptor to environmental conditions.
Raptor is available in two wheelbases and cab configurations; a 133-inch-wheelbase, extended-cab SuperCab and a 145-inch, four-door SuperCrew.

Rebel will be offered in a 140.5-inch wheelbase Quad Cab and Crew Cab.
Both pickups offer some premium-level comfortable interior and, of course, custom badging.
So, what's your factory-built off-road pickup of choice?