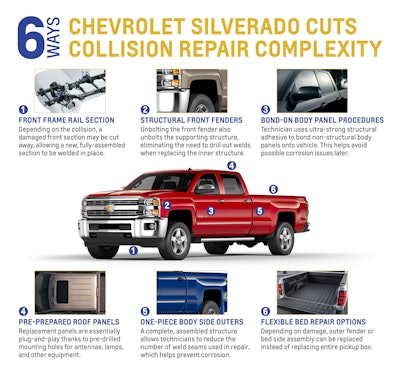 When development work began on the current generation Chevy Silverado pickups several years ago, General Motors' engineers incorporated several features that allow technicians to efficiently repair collision damage.
John Van Alstyne, president and CEO of I-CAR, an international organization focused on sharing new repair procedures among automotive repair professionals, says designing automobiles to be both durable and light weight is a challenge for the automotive industry.
"Advanced materials may deliver both qualities, but automakers need to still ensure vehicles are still designed for affordable reparability," he says.
"When we design trucks, we don't only consider what features our consumers demand from a full-size truck," says Mark Szlachta, a GM serviceability design engineer. "We also approach the process with our technician hat on, ensuring we engineer a truck that is straightforward and cost-effective to repair."
Below are six features included in the new generation Silverado with repairability ease in mind.
Front Frame Rail Section
Because of the way Silverado's front frame rails are engineered, depending on the severity of the impact, technicians may be able to repair a leading section of the truck's frame instead of replacing the entire chassis. If so, the damaged section can be cleanly cut away at a specific location, and a new service section – shipped fully assembled – can be welded in place.
Structural Front Fenders
On the Silverado, the front fenders incorporate both outer sheet metal and the supporting inner structure, allowing simple unbolting of the entire assembly.
Bond-On Body Panel Procedures
When it comes to replacing non-structural body panels, including outer roof panels or outer door panels, technicians can use an ultra-strong structural adhesive to bond the panels onto the vehicle. This helps avoid welding and possible corrosion issues later while speeding the repair.
Pre-prepared roof panels
Technicians can get replacement panels that essentially plug-and-play, thanks to pre-installed studs and pre-drilled holes for accessories.
One-Piece Body Side Outers
If damage occurs to the outer panels of the cab, technicians can order a complete body side outer, shipped as a single, complete assembly, allowing technicians to cut out and replace only the damaged area instead of the entire assembly.
Flexible Bed Repair Options
If the Silverado's pickup bed or outer bedside should ever be significantly damaged, depending on the damage, the outer bedside or the bedside assembly can be replaced from the bed floor out.