A new hybrid that combines the best attributes of the Toyo M/T and A/T II
Off-road performance and on-road comfort combined with extended tread wear are always key elements for anyone is search of good tires for pickups used as work tools.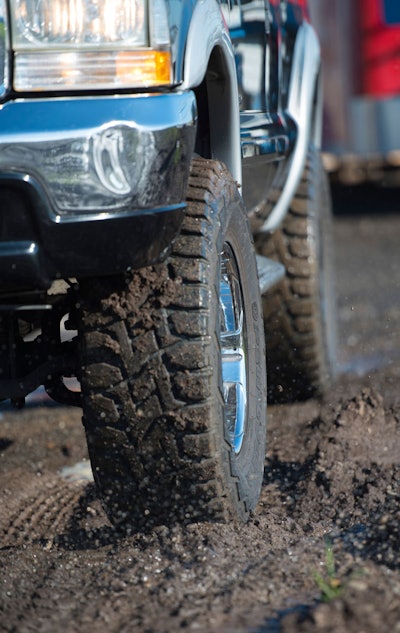 Over the past six months we've been running a set of Toyo Tires' new Open Country 35×12.50R18LT R/Ts on a 2002 F-350 4×4, tires that tout those very attributes.
Built rugged for any terrain, the Open Country R/T offers the perfect blend of excellent off-road traction, durable construction, and aggressive styling, with less on-road noise and a longer-lasting tread than the Toyo M/Ts.
At the same time the new R/T brings with it a quieter ride very similar to the brand's best-selling tire, the Open Country A/T II all-terrain.
"Our market research revealed many truck, Jeep and SUV owners are looking for a combination of performance and features not available in current mud-terrain or all-terrain tires," said Roy Bromfield, chief operating officer, Toyo Tire U.S.A.Corp.
"What these owners really want is the Toyo Open Country R/T – a premium tire that handles exceptionally well off-road and looks aggressive, but is also quiet and long-lasting enough for everyday driving."
Although I've only put just over 5,000 miles under the R/Ts, 75-percent of that highway and the remainder mostly gravel backroads, the tread wear still looks like the day they were mounted sans the little rubber whiskers new tires sport.
This leads me to believe Toyo's claim of the high-mileage expectations for this tire; the Open Country R/T is backed with a class-leading 45,000-mile treadwear warranty and the Toyo Tires No Regrets 45-Day/500-Mile Trial Offer.
These 100-percent American-madetires, built in Toyo Tires factory in White, Georgia, are a 10-ply with wide shoulder grooves, mud biting blocks and stone and mud ejectors.
They also have reinforced sidewalls to help deter sidewall punctures, and these tires have two different sidewall looks so you can pick how "aggressive" a tire you want showing when they are mounted.
I found the R/Ts sling gravel and mud better than the A/T IIs, while the closer spacing of the center tread pattern keeps the road whine minimized. They also work better on sand and wet pavement than the M/Ts. A nice compromise.
The tires are quieter than the Toyo M/Ts, Mickey Thompson Baja MTZs, and Goodyear Wrangler DuraTracs we've tested in the past, noise which is most evident at 30mph-slower coast-down and constant highway speeds above 60mph.
Another nice aspect is these tires have a very high load rating (2,600- to 3,750 lbs.), which bodes well for those towing trailers and/or using them under heavier work pickups like our Ford F-350.
My take on the Toyo R/Ts is they will deliver the higher mileage work truck owners need without compromising the mud/sand/rock traction required for getting around the typical jobsite.