Ram Has "Turned Up the Eco" on Fullsize Truck MPGs … to 29
The Ram Truck brand today announced that it will add a new, more fuel-efficient model to its half-ton truck lineup and further extend its claim on the industry's highest fuel efficiency rating.
The 2015 Ram 1500 EcoDiesel HFE will deliver the highest fuel economy among all fullsize truck competitors — 12 percent higher than the next-closest competitor.
Its "HFE" designation is Ram's way of highlighting this model's excellent fuel efficiency.
Ram EcoDiesel HFE gets an EPA-certified 29 mpg highway fuel economy rating. EcoDiesel HFE's city and combined mpgs are 21 and 24, respectively, also highest among all pickups.
"Fuel efficiency is at the top of truck buyers' priorities, and Ram is the recognized benchmark for the industry," said Bob Hegbloom, President and CEO – Ram Truck Brand. "Twenty-nine miles per gallon cuts through the clutter. Ram invested in powertrain technologies and those are paying real dividends in the wallets of our customers."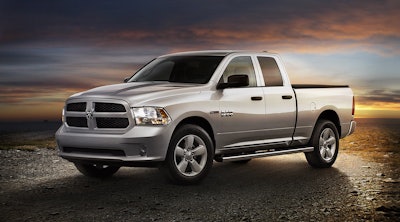 The fuel economy king features a unique trim package on the popular Ram 1500 Tradesman Quad Cab four-door body, with a 6-ft. 4-in. bed and 20-inch wheels.
The Ram EcoDiesel also is available with a body-colored fascia adopted from the Ram Express model, which gives the Ram EcoDiesel HFE a sporty exterior appearance not offered on other EcoDiesel-powered Ram 1500s.
Class-exclusive wheel-to-wheel side steps and a tri-fold tonneau cover offer owners a double-bonus: greater functionality and best-in-class aerodynamics contributing to better fuel efficiency.