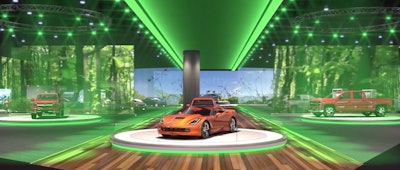 Interactive display highlights key safety features using state-of-the-art technology; Colorado and Corvette share the stage
DETROIT – Chevrolet is putting the show back in the North American International Auto Show with an all-new display featuring six 20 ft.-tall, transparent screens with coordinated LED lighting and music that will tell stories about the brand's cars, trucks and crossovers.
The nine chapters include highlights of Chevrolet's dependability, performance, belief in the power of play, available in-vehicle Wi-Fi technology through OnStar 4G LTE and others.
"We've reimagined the auto show by putting the show back at the center with state-of-the-art technology," said Tim Mahoney, chief marketing officer, Global Chevrolet. "The display is designed to connect with attendees and show how the brand continues to Find New Roads."
The center aisle, or Main Street, features the latest vehicles from Chevrolet – the Corvette Z06, Trax and Colorado, 2015 Motor Trend Truck of the Year®. Main Street leads to the Chevrolet Theater with a massive, high resolution 73-foot-long, 20-foottall display, and the latest introduction, the 2016 Chevrolet Volt.
A safety experience in the theater will show how Chevrolet vehicles are designed to prevent, protect and respond to help keep vehicle occupants safe on the road.
Next to the theater, virtual reality technology will provide a driving experience of crash avoidance technology like available Lane Departure Warning and Forward Collision Alert.
During select public days, regional organizations will present ways they are using ingenuity to make a difference in their community during The Possibilities Project feature presentations. Participating groups include United Way for Southeastern Michigan, Greening of Detroit, De-Tread and others.
The public will also have an opportunity to record a 20-second video with their ideas for a better tomorrow and share their video via Facebook, Twitter, e-mail or text.
The display will also make attendees a part of the experience through social media. Attendees who take photos with My Chevy View in the display can share them through their own social media accounts and may find themselves on the larger-than-life screens.