Source: PRNewswire 1/5/2015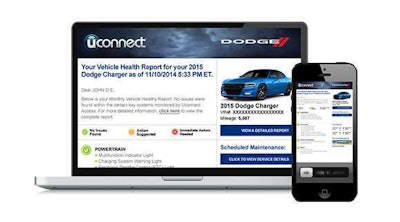 FCA US LLC Debuts four new 'Uconnect Access' services at 2015 Consumer Electronics Show in Las Vegas
FCA US Operations is feeling lucky and heading to the 2015 Consumer Electronics Show in Las Vegas, adding to its acclaimed "Uconnect Access" suite of connected in-vehicle services.
Uconnect introduces four all-new services that include Vehicle Finder, Send Destination to Vehicle, a Monthly Vehicle Health Report and Vehicle Health Alert.
These services are uniquely designed to help consumers monitor and maintain their vehicle's key systems, easily navigate to desired destinations and keep track of their vehicle's location at all times.
"The Uconnect team is dedicated to delivering services and features that are innovative, functional and most of all easy to use," said Al Amici, Head of Global Uconnect System and Services, FCA US LLC.
"We understand that our customers lead busy lifestyles and our goal is to minimize the everyday stresses by providing drivers with a variety of ways to stay conveniently connected to their vehicle."
In addition to the four all-new Uconnect Access services, Uconnect is introducing a revitalized and refreshed Uconnect Access smartphone application designed with a whole new look, feel and functionality.
With the new revived Uconnect Access application, vehicle owners can navigate through the app in a faster and much more intuitive manner, allowing customers to connect to an array of remote services that includes the all-new Vehicle Finder and Send Destination to Vehicle.
Vehicle Finder, Send Destination to Vehicle, Vehicle Health Report and Vehicle Alert will be made available during the first half of 2015 on select 2015 model-year vehicles properly equipped with a 8.4A or 8.4AN system and must be registered or have an active Uconnect Access subscription.