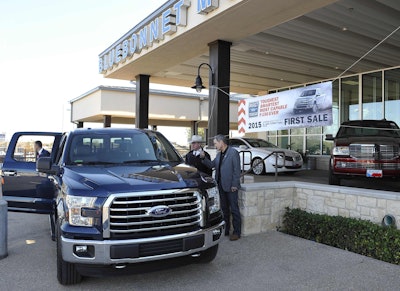 Defenses won't be the only thing blitzing in bowl games this week. Ford, beginning today, is launching its most comprehensive truck marketing campaign ever to promote its all-new 2015 F-150.
Available across the widest variety of communications platforms yet, from football to professional bull riding to country music to smartphones, Ford's new multichannel marketing campaign is designed to reach truck customers where they work and play.
Highlighted in its marketing will be the F-150's breakthroughs – including its industry-leading light-weighting strategy utilizing high-strength, military-grade, aluminum alloy plus 11 class-exclusive innovations, such as its 360-degree camera, LED headlamps/spotlights and remote tailgate release.
Ford will gain their attention during commuting and off-hours while providing on-demand digital and mobile content that answers their questions 24/7.
Ford's data show that truck customers begin the shopping process earlier than typical customers, starting an average of 233 days before purchase. Nearly half of truck buyers ultimately purchase the brand they researched in their initial shopping. They spend an average of 35 percent to 45 percent more time on dealer websites than car and crossover buyers, looking at specific trucks to meet their unique needs.
Three national TV commercials make their debut Dec. 31 during the first-ever college football playoff for NCAA Division I teams. They also feature the debut of an updated Built Ford Tough shield.
Additionally, ESPN "Sport Science" creator John Brenkus hosts "F-150 Tough Science" webisodes that showcase various technologies and materials in the truck, such as its high-strength, military-grade, aluminum-alloy body and high-strength steel frame. "Tough Science" shows customers how these innovations make the new F-150 nearly 700 pounds lighter and more efficient than any previous F-150.