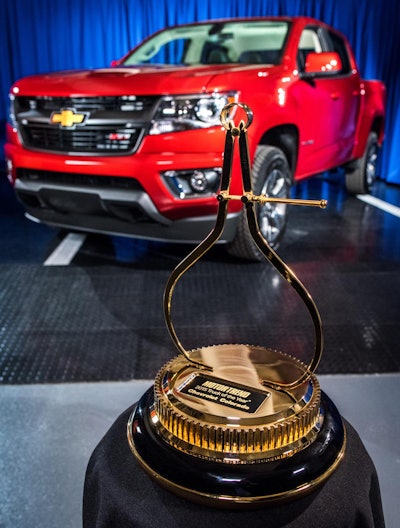 Chevy's all-new 2015 Colorado was a unanimous selection as Motor Trend's 2015 Truck of the Year.
Open only to all-new or significantly updated trucks and vans for the upcoming model year, seven contenders were invited to compete for Motor Trend's top truck honor. Three competitors were asked to bring a powertrain and/or body style variant for a total of 10 vehicles overall:
Chevrolet Colorado WT and Colorado Z71
Chevrolet Silverado 3500 HD
Ford F150 2.7L EcoBoost and 3.5L EcoBoost
Ford F-450
Ford Transit 350 HR and Transit 150 MR
GMC Canyon SLT
GMC Sierra Denali 2500 HD
The editors noted they were particularly impressed with Colorado's handsome, clean-sheet design, "right-sized" package, excellent handling and overall capability.
"The Chevrolet Colorado offers customers the versatility of a pickup in a powerful, refined, fuel-efficient midsize package, with up to 27 mpg EPA highway," says Sandor Piszar, Chevy Trucks marketing director. "For Colorado to emerge from Motor Trend's thorough evaluation as the 2015 Truck of the Year shows how Colorado is changing the game by offering truck customers fresh new choices."
To determine which truck deserved top honors, the Motor Trend test team subjected all of the contenders to numerous instrumented and real-world road tests. First up was standard Motor Trend testing, which included: 0-60 mph and 1/4-mile acceleration, 60-0 mph braking, and maximum lateral grip – all without payload or trailered loads.
A specific payload was then added to each truck and van, and the vehicles were then driven more than 250 miles to the Arizona/Nevada border to evaluate ride quality and loaded fuel economy. The vehicles were driven up and down the famed Davis Dam in Bullhead City, Ariz., for further assessment, including an instrumented test designed to simulate a passing situation while carrying a load.
The team then moved to a world-class automotive proving grounds for instrumented acceleration tests with nominal weight trailers. Truck and trailer were also driven through a short handling course to evaluate acceleration, braking, maneuverability and outward visibility. The final phase of evaluation involved a 21-mile road loop through hills of Arizona's Hualapai Mountains.
Following the team's intensive evaluation, the trucks were shipped to Motor Trend headquarters in El Segundo to undergo proprietary "Real MPG" fuel-economy testing. Using advanced exhaust gas and flow-rate analyzers, Real MPG measures tailpipe emissions every second during a three-hour, 88-mile drive around the Los Angeles area to record accurate real-world fuel economy.
The winner is not chosen from a direct comparison against the other contenders, but rather as a result of how each contender performed in testing and against the award's six criteria: Design Advancement, Engineering Excellence, Efficiency, Safety, Value, and Performance of Intended Function.