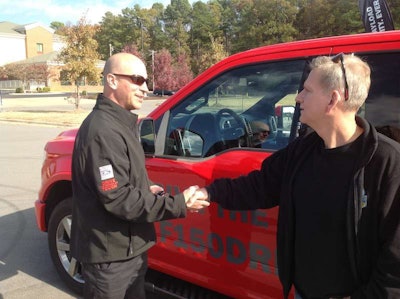 There was a whole lot of tire kicking (and panel tapping and tailgate popping) going on when Ford's 2015 F-150 consumer test drive tour rolled into Little Rock recently.
Hard Working Trucks was on hand to hear what folks had to say. Most were already loyal F-150 customers, and most were excited by the new trucks – though a few had been skeptical: If it ain't broke, why fix it?
Here, Charles explains that the new truck feels even more solid than his steel 2009 – and "it really likes to go."
[youtube wC7ENtqXw2o nolink]
A lifelong Ford truck man (well, since he was 15, anyway) Randy likes a lot of the little touches Ford has added.
[youtube M69md8yQuoE nolink]
Some fellows are more set in their ways than others. There's barbed-wire in the bed of Bill's F-350, so it's a work truck – and he's proud of it.
[youtube 7wfU_tbfKV8 nolink]