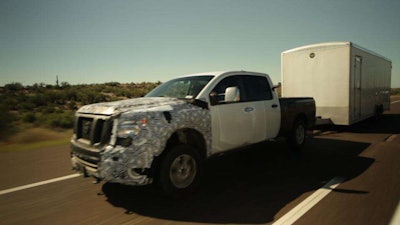 [youtube o5WWHooCYQ4 nolink]
Nissan says it will unveil its next-generation Titan at the Detroit Auto Show in January, and to celebrate its launch Nissan will the story of the pickup's development via a series of short videos under the "Nissan Titan Truckumentary" banner.
A teaser of this video series was issued Wednesday along with an introductory letter to the series from Nissan North America's Director of Product Planning for trucks and SUVs and Chief Product Specialist for the next-generation Titan, Rich Miller.
"The 'Truckumentary' is not meant to be the all-encompassing last word on Titan," says Miller. "Rather it's the continuing story of the vehicle's evolution, accompanied by a close look at the American-based team that is bringing this all-new truck to market."
The series will launch in mid-December with more than a dozen videos coming throughout the next calendar year.
Here's "Chapter 1":
[youtube wopptBtCnBQ nolink]