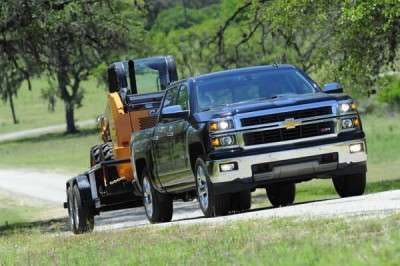 Ford's new F-150 is the first pickup out of the gate in the race to reduce weight with aluminum, but a new welding system developed by General Motors will let GM introduce aluminum components to its current vehicle production lines without having to spend hundreds of millions in factory retooling costs.
The manufacturing breakthrough will let GM spot weld aluminum sheeting for doors, hoods and tailgates with the same robots and welding guns that work on steel, according to a report this week by Automotive News.
"It is a great leap. And I think that is very important. I don't know of anyone else who has that," Richard Schultz, managing director of consulting firm Ducker Worldwide, tells AN. "GM will not have to spend $359 million to retool a plant if they decide to do an aluminum Silverado."
That's a reference to the money invested by Ford, along with 10 weeks of lost production earlier this fall, when the company converted the Dearborn, Mich., F-150 plant from steel to aluminum for the 2015 model. Early next year, Ford plans to make the same switch at its Kansas City, Mo., truck plant, according to the report.
The new aluminum spot welding system, which GM calls "multiring domed electrode," is already in use at the Grand River plant in Lansing, Mich., to weld the aluminum doors on the 2015 Cadillac CTS. It also is used in Arlington, Texas, on the aluminum liftgates of the Chevrolet Tahoe and Suburban, GMC Yukon and Yukon XL, and Cadillac Escalade and Escalade ESV, author Richard Truett reports.
GM has been granted nearly 20 patents for its aluminum welding technology.
GM can meet its fuel economy obligations without switching to a full aluminum body, consultant Reuss suggests: A combination of materials can give GM the weight savings it needs.
Ford recently warned investors that its profit margin on the 2015 F-150 will shrink because of higher material and manufacturing costs, AN says.