Ford's Will Dominate Trade Show Pickup Scene; Car Enthusiasts Get Special Viewing At The LINQ
The first week in November brings more custom vehicles into Vegas than whales and card sharks.
It's the week the SEMA Show takes over the Las Vegas Convention Center to display the newest in automotive parts and accessories — and where hundreds of customized cars, pickups and SUVs line miles of isles and crowd bumper to bumper in the outside display areas.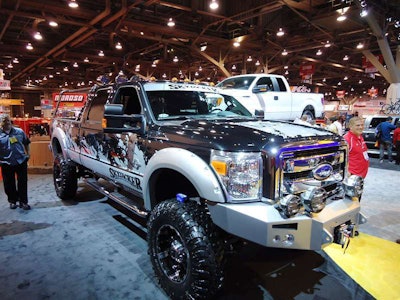 This "trade-only" convention is the biggest show of its type in the world, with more than 2,000 New Products on display and more than 2,300 exhibiting companies filling over a million square feet of the Las Vegas Convention Center.
The good news for the general public is SEMA is throwing a special party open to all to see these custom rides.
More than 125 vehicle builders and car customizers have been entered into the first-ever "SEMA Battle of the Builders" competition taking place at SEMA Ignited, Friday, November 7, 2014.
Hundreds of vehicles will exit the Las Vegas Convention Center after the SEMA Show and make their way to the LINQ near the strip in Las Vegas, where SEMA Ignited will be taking place.
They will join exhibitors, products and celebrities from the SEMA Show at the LINQ, along with food trucks, music and entertainment.
(Hard Working Trucks' staff will be in attendance at SEMA 2014. So follow us Facebook and Twitter as we bring you live updates!)