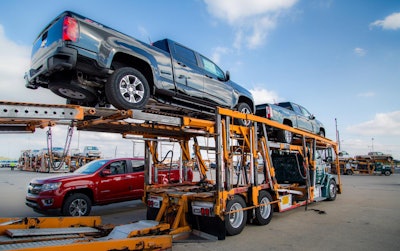 Buyers waiting for General Motor's newest midsize entries won't have to wait much longer. GM started shipping Chevrolet Colorado and GMC Canyon to dealers Thursday.
All indications are, there is pent up demand. Consumers have created more than 100,000 configurations of the trucks since the Colorado Build Your Own and Canyon Build Your Own websites went live on Sept. 3.
"The Colorado was designed to meet the demands of the modern midsized truck buyer, and now we're fulfilling the demand they've placed on us," says Brian Sweeney, U.S. vice president of Chevrolet. "Chevrolet and everyone at the Wentzville plant has worked hard to get the truck out on time to fulfill as soon as possible the orders our dealers have placed."
Both the Colorado and Canyon benefit from technologies like cabs and frames made with more than 72 percent high-strength steel, available active aero shutters to make the truck as aerodynamic as needed, and available OnStar with 4G LTE, creating a rolling Wi-Fi hotspot for up to seven mobile devices to connect to the Internet.
The duo's available 3.6L V-6 engines return 18 mpg city and 26 mpg highway in 2wd form, making them the most fuel efficient V-6s in their class, offering three to five mpg better than their competitors.
For the 2016 model year, Colorado and Canyon will add a 2.8-liter Duramax turbodiesel to the engine lineup. Technical details and EPA fuel economy estimates will be available closer to launch.
Hard Working Trucks will be taking GM's new Colorado and Canyon for a test drive next week, both in varying specs.