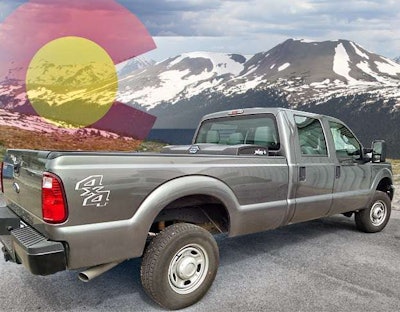 In a state fully engaged in the ongoing natural gas boom, it makes perfect sense for Colorado officials to explore the resource as an alternative transportation fuel. But the road to a more sustainable government fleet can get a little bumpy when top-down mandates don't fit the day-to-day reality faced by hard working trucks in the field, as a recent investigation discovered.
By way of background, just last year buying natural gas vehicles became a Colorado state statute, but the costs of buying and operating the NGV had to be within 10 percent of those of a conventional vehicle.
In addition, Colorado Governor John Hickenlooper and Oklahoma Governor Mary Fallin have spearheaded a multi-state memorandum of understanding designed to increase the use of natural gas vehicles in each state's fleet.
Since then, Arkansas, Kentucky, Louisiana, Maine, Mississippi, New Mexico, Ohio, Pennsylvania, Texas, Utah, Virginia, West Virginia, and Wyoming have joined the effort.
In Colorado so far, the state has spend $8 million on 237 NGVs.
Sabrina D'Agosta, director of policy and communications for the state's department of personnel and administration, which manages the fleet, told Westport's "fuel for thought" blog the state is "really thrilled" to have CNG vehicles in the fleet, "particularly as we see more types of CNG vehicles available."
The state has ordered 40 Westport WiNG Power System bi-fuel Ford F-250 pickup trucks.
"[The vehicles] have to meet the needs of the departments, meet the business use of the departments that they are for," D'Agosta says. "As we see more CNG fueling stations available in the state, that's also helping us. We have personnel throughout Colorado – so we have to have access to stations."
But that's easier said that done, as a couple of reports last week from Watchdog.org – a collection of independent journalists focused on state on local government activity – suggest.
Specifically, because of the lack of fueling stations, state workers apparently continue to run many of the vehicles on more expensive gasoline, "negating any of the environmental benefits and cost savings touted by supporters of the more expensive vehicles," writes Arthur Kane.
The report details the pressure to buy NGVs the Hickinlooper administration has put on state departments and fleet managers, despite operational concerns. The governor has also been an outspoken supporter of the oil and gas industry; critics contend the administration doesn't fully consider the environmental concerns of Colorado residents.
And some vehicles simply aren't up to doing the job, Kane reports. He cites instances of pickups with reduced hauling capacity due to the CNG tank, and expensive work-arounds, such as the addition of a bed extension, or having to use a trailer.
Administration officials, however, contend such issues were expected.
"I realize we are now putting some pieces together so there is going to be some trial and error," Colorado Parks and Wildlife Commission chairman John Singletary told the Denver Post last summer. "I'm sure there was a quandary when people were first confronted by the Model-T Ford. It might be a little uncomfortable for a while. But we are committed to making this work."
And state workers are generally pleased with the NGV results, State Fleet Manager Ron Clatterbuck told the Westport blog.
"State employees have been open to trying them out and have commented that the vehicles have been able to perform their duties without a problem, and in some cases, better than they had anticipated," Clatterbuck says.
He concedes, however, that some would prefer smaller CNG tanks so they can carry more equipment, and that the state anticipates a build-out of the fueling infrastructure.