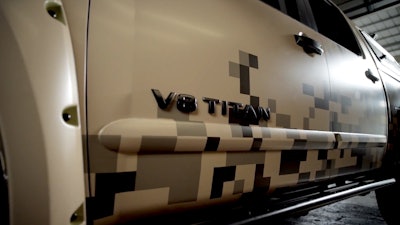 Just recently having been outfitted with a high performance exhaust, bumper and bed utility, Nissan's Project Titan has entered into Phase III – wheels, lights and wrap.
The work of transforming the stock Titan into a truck fit for the adventure of a lifetime in Alaska is well underway. More high performing parts and accessories have been added preparing to take on some of the world's toughest terrain.
Nissan's Project Titan is the world's first crowd-sourced Titan by handing over the build to their Facebook fans who chose custom modifications for a 2014 Nissan Titan that Wounded Warrior Project Alumni David Guzman and Kevin McMahon will take on a multi-day trek that will put the veterans and the vehicle to the test.
[youtube cAsqFP5p-C4 nolink]