We're a sentimental bunch here at Fun Trucks Friday. So as our baby approaches its first birthday, we decided to take a look back at some of our favorites weekends with the little dude.
And since the FTF concept began with a misleading headline about a possible new El Camino, we're starting our celebration with the top five stories, based on page views, featuring the various versions of those lovable car-pickup mashups.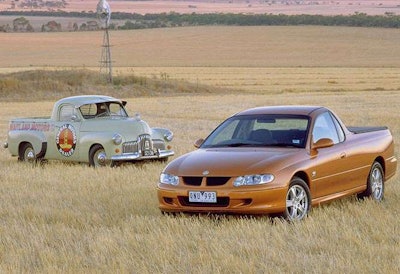 • Appropriately, we begin at the beginning, with our #5 ranked Holden Commodore. As the story explains, Holden is the Australian arm of GM, and the Commodore 'ute,' as they say Down Under, has long been rumored to be the model for the reintroduction of the Chevy El Camino in North America.
Except Holden is discontinuing it, at least in any form with commercial potential. Pick-ups from Thailand, with a boost from a recent free trade agreement, have proved less expensive and more popular, apparently.
• Coming in at #4 is our most recent variation on the El Camino theme, Deep Orange, a concept vehicle developed by automotive engineering students at the Clemson University International Center for Automotive Research in partnership with BMW Manufacturing Co.
It's based on the BMW X3 and is defined as a versatile vehicle that targets the niche market of performance-oriented SUV customers who want both best-in-class utility and space and an aggressive sporty design, the team says.
• The #3 knock-off is the smallest, and comes from young apprentices and their instructors at the BMW plant in Munich. The MINI Cooper S Paceman concept features a turbocharged 184hp engine, all-wheel drive, a modified suspension and numerous unique features making the vehcile ready for just about anything.
The pickup has the typically MINI short overhangs, a modified chassis with extended ground clearance and much higher front and rear clearance ramps. The snorkel-like roof level air intake suggests that the MINI Paceman Adventure could tackle a challenging river crossing.
And now we come to our final contestants. The hit totals were close, and high on HWT's list of page rankings for the last year.
• In second place, with nothing to be ashamed of, is the Ultimate Wheels Ferrari work truck. Brought to us by the folks at the London Motor Museum and its sister operation, London Supercar Workshop, this conversion started as a 1989 Ferrari 412 before it re-crafted into a perfect hard working truck for the high-end tradesman.
A real Jekyll-and-Hyde conversion, the Ferrari is adorned with a shotgun scoop hood and custom exhaust system resulting in a dual-personality of high performance hot-rod and practical truck.
• Now, the moment we've all been waiting, our #1 Faux Camino came to us by way of eBay – that's right, anyone could've picked up this masterpiece of German automotive craftsmanship made perfectly practical for American abuse – the "1979 300TD Mercedes Diesel Ranchero El Camino Pickup Working Tailgate Recaro," or so it was listed. Some 60 bids ran the final price to $12,401.
"The conversion was done so well even the guys at the MB dealership have been fooled into thinking that this was a factory pickup," said the seller. "The best thing about this is the working tailgate, which many conversions, whether they be Cadillac or Lincoln from the 1970's, or BMW or Mercedes more recently, do not have. This is a fully functional vehicle, not just done for looks."
But not to worry, El Camino fans: FTF will be back soon with what you're really looking for: a conversion kit and how-to tips from a pro.
Stay tuned.