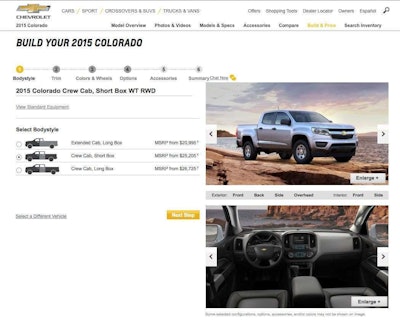 General Motors has launches a new website to support the sale and customization of its new 2015 Chevrolet Colorado – available at dealers this fall.
"Our truck lineup is all about giving truck buyers choice," said Tony Johnson, Colorado marketing manager. "With the Build Your Own site, Colorado customers can equip their truck, request a quote from the dealer and even get a price on their trade-in."
The Colorado base extended-cab model with a standard 200-horsepower, 2.5L four-cylinder engine starts at $20,995 including destination charge. The 305-horsepower 3.6L V-6 engine adds $1,220 and a 6-speed automatic adds $650. The customization goes from there.