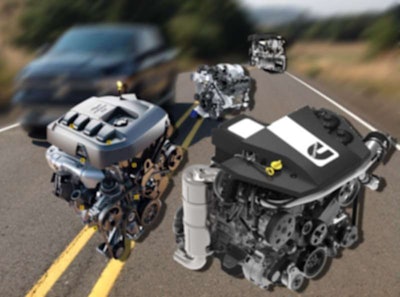 A Look Ahead: What we think will be coming down the light-duty diesel road in the next few years
Half-ton diesels have been a hot discussion item of late with the entrance of the VM Motori-sourced 3.0L EcoDiesel in the 2014 Ram 1500s, and both GM and Nissan announcing they'll have diesel engines in several models next year.
But such news isn't new: The pickup manufacturers are just getting back on track with a game plan that was supposed to happen back in 2009.
When the economy fell on its face in 2008, GM and other players in the pickup market had already announced their plans for offering diesels in 1/2-ton and mid-size pickups.
GM had even sent out a press release in mid-2007 detailing the 4.5L Duramax V-8 (photo above) that was going to be used in the new 1500s.
However, when the market dropped like a pickup hitting a sink hole, those plans, and the engines that were ready to for use in the engine bays of new models, were shelved – literally.
Ram Trucks is the first to get back on track. GM and Nissan will be the next to come to market with light-duty pickup diesels with the 2016 Colorado/Canyon getting a 2.8L Duramax four-cylinder and Titan a Cummins-sourced V-8.
What will the future hold for smaller diesels in the next 2-3 years? A lot of speculation and conjecture.
Vehicle and engine manufacturers are notorious for not divulging or commenting on "future product" coming to the U.S. automotive market.
But small diesels ideal for pickups are already a major part of the world market, and some of those could easily migrate here just as the Fiat diesel did in the Ram 1500s.
Ford already provides Tata Motors with a 3.0L TDV6 "Lion" diesel that develops 255hp and 443 lb/ft torque in 2014 Land Rover Discovery and Land Rover Range Rover.
A 335hp V-8 4.4L version is also being used in the same vehicles, which would make it a natural for the aluminum body F-150s coming to market.
As we reported earlier this year, Cummins, a leader in the world diesel engine market, has also made it clear the 5.0L Titan V-8 isn't their only plan for providing engines for 1/2-ton and mid-size pickups marketed in the States.
Sources say they are developing 2.8L I-4 and six-cylinder variants, as well as the 5.0L V-8, for use in the next generation Toyota Tundras and Tacomas.
The chart below is a compilation of what diesels we think will be offered in the next wave of 1/2-ton and mid-size pickups, as well as what is currently available.
CLICK LOGOS FOR MORE DETAILS