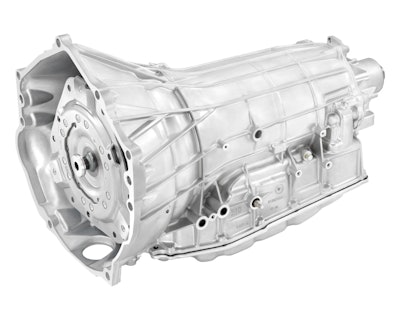 The all-new, GM-developed Hydra-Matic 8L90 eight-speed transmission is matched with the available 6.2L EcoTec3 V-8 engine in the 2015 Chevrolet Silverado 1500, supporting the pickup's capabilities with greater efficiency and refinement.
It was designed with 11 percent greater torque capacity than GM's 6L80 six-speed automatic transmission, complementing the output of the 6.2L, which – at 420 horsepower and 460 lb-ft of torque – is the most powerful engine offered in a light-duty pickup, GM says.

EPA estimated fuel economy will be announced closer to the start of production in the fourth quarter of 2014.
"The new 8L90 eight-speed is designed tougher to handle the greater power of the Silverado's powertrains, with great improvements in spin loss to complement that capability with greater efficiency," said Kavoos Kaveh, global chief engineer for eight-speed automatic transmissions. "It is a marvel of packaging efficiency and driving efficiency that has garnered more than two dozen patents for General Motors."
With four simple gearsets for optimal efficiency and five clutches (two brake clutches and three rotating clutches), creative packaging enables the new eight-speed automatic to fit the same space as the previous six-speed automatic, with a lower weight. A wider 7.0 overall gear ratio spread provides a numerically higher 4.56 first gear ratio, helping drivers start off more confidently with a heavy load or when trailering.
The 2015 Silverado 1500 equipped with the 6.2L engine and eight-speed automatic transmission will have a maximum available trailer rating of 12,000 pounds.
Smaller steps between gears, compared to the 6L80 (see chart below), keep the engine within the sweet spot of the rpm band, making the most of its horsepower and torque to optimize performance and efficiency. They also enable numerically lower rear axle ratios, which reduce engine rpm on the highway for reduced fuel consumption.
Additionally, friction-reducing design features – including all-new synthetic fluid – and lower spin losses via a powerflow that uses only two open clutches contribute further to efficiency. A new torque converter design with turbine damper enhances refinement, particularly during low-speed gear changes, for smoother performance when the truck is loaded or pulling a trailer.