GMC Sierra 3500HD Wins 2014 Ultimate Heavy Duty Challenge
The 2015 GMC Sierra 3500 HD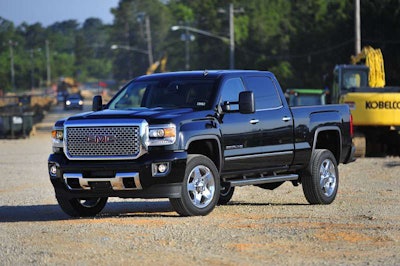 won the overall title in the 2014 Ultimate Heavy Duty Challenge 1-ton diesel category following testing by truck experts from Cars.com, PickupTrucks.com and Mrtruck.com, Cars.com said today.
Comprehensive testing pitted the Sierra HD against its two competitors, the Ford F350, equipped with its updated-for-2015-model-year Powerstroke diesel engine, and the Ram 3500, equipped with its Cummins diesel powertrain.
PickupTrucks.com Editor Mark Williams said he enjoyed the comfort of the Sierra HD and its comprehensive strengths.
"Our judges hugely appreciated the all-new interior and infotainment interface and 8-inch navigation screen," Williams said. "In the end, the GMC was the best all-around player of our competitors."
Evaluators said the Sierra HD excelled in vehicle control while towing. The integration of the diesel exhaust brake, standard with every Sierra HD equipped with the 6.6L Duramax Diesel engine, with the truck's grade braking and cruise control, was engineered to provide a stress-free experience for drivers hauling heavy loads over long distances.
In testing for the Ultimate Heavy Duty Challenge, the Sierra HD required zero brake pedal depressions during a 7.2-mile descent from the Eisenhower Pass in Colorado, which included up to 7 percent grades. Neither competitor matched that performance.
Additionally, the Sierra HD won several other measured tests, including 0-60 mph time on the Milan, (Mich.) drag strip, 60-0 braking distance at Milford, (Mich.) Proving Ground, and fuel economy while trailering in Michigan.
The entire set of results and methodology can be found at the PickupTrucks.com.
"We've always believed we've had the best heavy duty truck on the market," said Sierra Marketing Manager Stuart Pierce. "This validation from PickupTrucks.com, a leader in covering the pickup industry, is gratifying for the entire team that designed, engineered, and now sells this capable and refined truck. We look forward to building on this accomplishment as we move forward."