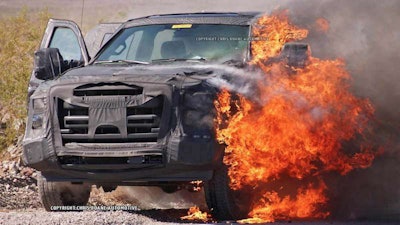 The development of a new vehicle is a process full of trial and error, but the untimely demise of a recent prototype of Ford's Super Duty was all error. Lots of it.
On a recent test drive in Death Valley, Calif., the truck – which is expected to follow little brother F-150 in its aluminum construction – burst into flames before burning to the ground.
According to Road & Track, the pickup was towing a two-axle trailer loaded with water tanks when a fire broke out in the truck's wheel well. The fire quickly spread as the Ford engineers behind the wheel headed for cooler ground. Photographers who chronicled the mobile inferno told the magazine that within three minutes the whole truck was engulfed in flames. A few explosions and 18 minutes later, the truck was reduced to embers.
Ford told Automotive News that it had not yet determined a cause for the fire but is investigating the incident.
Road & Track has even more pictures from the fire.