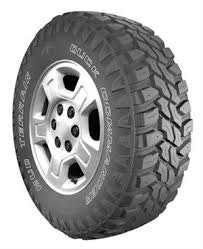 If you're a fan of Duck Dynasty, you may already have a closet full of memorabilia. Now you can fill up your garage, too.
TBC Brands, in partnership with Harris Tire Company, has launched two exclusive Duck Commander branded tire lines.
The all-new "Duck Commander All-Terrain" and "Duck Commander Mud Terrain" lines feature aggressive tread designs, stylized outline white letter sidewalls, and popular sizing for a wide variety of SUVs, Jeeps, and pickups.
Harris Tire Co., which reached a licensing agreement with Louisiana's Robertson family – stars of the reality show Duck Dynasty and proprietors of the Duck Commander brand – is the exclusive distributor of the lines in the Southeast, and has partnered with TBC Brands to distribute the lines throughout the rest of North America.
"When Harris first approached us about this venture, we were very excited about the special opportunities this project would create for both tire dealers and consumers, especially recreational and off-road enthusiasts," says Marty Krcelic, executive vice president of sales for TBC Brands. "The Duck Commander tires will add a sense of fun and adventure to any vehicle and we are very happy to be the co-distributor of them with our friends at Harris Tire,"
Ken Harris, Jr., president of Harris Tire, says the idea was born from a casual conversation with the Duck Commander patriarch Phil Robertson.
The lines will be available on a size-by-size basis beginning in August and continuing through October.
A&E's favorite bearded outdoorsmen are no strangers to marketing themselves to drivers of pickups. The Robertson's offer their logo on a variety of things from floor mats to seat covers and window decals.
And if you're the ultimate Duck Dynasty fan, Chevy will sell you a limited edition 2014 Chevy Silverado 1500 inspired by Duck Commander's Willie Robertson.