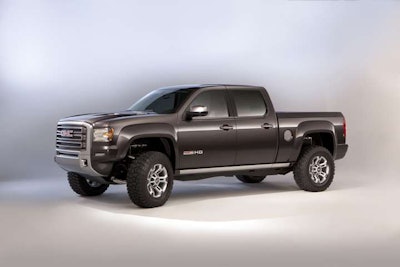 At their release, concept vehicles are as cutting edge as it gets, but nothing moves faster than technology, even suped-up concepts.
"A lot of times we do a concept vehicle a couple years out in front a production vehicle," says GMC design manager, exteriors, Carl Zipfel, whose All Terrain concept was spun into a redesign of the GMC Sierra HD. "You're doing them pretty fast, so I would say the shelf life is pretty short, but as a designer you always try to create something that is timeless."
If you've ever bought a cell phone or jumped into a fashion trend, you know just how quickly timelessness fades.
Often you can create something that has a lot of shelf life, but the expectations of shelf life aren't very high, maybe a couple of years."
Freightliner Revolution's engineers and designers have already turned their attention to SuperTruck, an ultra-efficient concept model. B TJ Reed, director of product strategy for Daimler Trucks North America, says the truck, for what it was designed to do, was a success.
"The measurement for success is what you learn, and a lot of learning is learning about failure and how you improve on things," he says.
"You don't want to show the same Innovation truck for, say, five years because the technology moves faster and faster and it becomes a contradiction in terms," Maik Ziegler, Daimler Trucks' director of advanced engineering, NAFTA says.
"We'll look well into the future," Reed adds on how Freightliner will judge the success of Revolution. "There's a lot of things that we were working on for the Revolution truck that we're working on now for trucks of the future, so the jury's out until those trucks hit the market. But if you don't do that kind of stuff, it's much more risky venture coming out with something."
As manager of advanced concepts with Peterbilt, Bill Kahn's hopes for WAVE are more scientific in nature.
Peterbilt's Walmart Advanced Vehicle Experience (WAVE) truckUnlike Navistar's Horizon and Freightliner's Revolution, which at least had the skeletal structure of a heavy-duty production truck, Peterbilt's WAVEis a concept in every definition of the word.
an aggressive teardrop design, is powered by a fuel-neutral turbine engine that can run on diesel, gasoline, natural gas, DME, hydrogen and other biofuels.
The evolution of hybrid drivelines ha made them a feasible option in transportation. And he says he is hopeful that WAVE will showcase how turbines can benefit the industry.
"Even if it just starts the conversation," he says.
Executives and the general public largely judge success and failure, but designers take a lot of pride in having been part of the project, with even some of the most minute details being a source of great pride.
"I'm fortunate that I have vehicles that I see everyday on my drive into work that I had something to do with," Zipfel says.
Brad Richards, exterior design manager for Ford Trucks, says his greatest sense of pride came from the development of Atlas' fascia, which created a unique look on the front of the truck.
"We knew there were going to be some major technically challenging aspects in doing that," he says of the process that removed some of the lighting and replaced it with colored fascia. "At night the truck is going to have a very unique appearance and we're really excited about that."
And a good old-fashioned pat on the back still goes a long way.
Zeigler says the fact the Freightliner's concept trucks – including both Innovation and Revolution – have been dubbed "must-see" attractions at some of the world's largest trucking shows has become an enormous point of pride among designers and engineers.
"This makes us pretty proud," he says. "Internally, colleagues are giving you handshakes for something like this… The teamwork was just awesome, because everybody is motivated from such a project."
Once the trucks have outlived their usefulness and retired from the trade show circuit, they are used for marketing, put on display or stored.
Freightliner's Revolution truck is still on tour and SuperTruck won't make its debut until next year.
WAVE is headed for track testing in the coming months.
The buzz on Atlas has been crushed by excitement for the coming F-150. Both the Atlas and Bronco currently sit in storage at Ford.
The GMC All Terrain was only recently moved from Zipfel's design studio and into a storage facility nearby.
"Some (concepts) end up in (GM) museums," Zipfel says. "And there's a constant rotating collection and we have numerous warehouses. We definitely get our use of them. Very few of them ever get dismantled or crushed, but every now and then you'll have a case that it's run its useful course and it gets recycled."