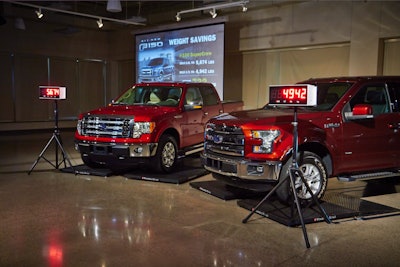 The Michigan State Lottery aside, the most anticipated numbers coming out of Detroit have been the performance figures of the engines scheduled for Ford's next generation 2015 F-150.
Those have been a closely guarded secret until this week when Ford pulled back the curtain on a few more details on the 2015 F-150, which should hit dealership lots in the coming months.
Thanks to vehicle weight savings (the new F-150 will be upwards of 700 pounds lighter than previous generations thanks to its aluminum body), Ford says the standard 3.5-liter V6 with Ti-VCT offers a 5 percent improvement in power-to-weight ratio over the larger 3.7-liter V6 in the 2014 F-150, with better fuel efficiency and performance.
Ford revealed this week that testing put its 2.7-liter EcoBoost outperforming Ram 1500 3.0-liter V6 EcoDiesel and Chevrolet Silverado 1500 5.3-liter V8 while towing a 7,000-pound enclosed trailer up Davis Dam in Arizona. The engine also boasts more than twice the horsepower, torque and towing capability of the Toyota Tacoma midsize pickup truck with identical displacement 2.7-liter four-cylinder engine.
GRAPHIC: How does Ford power stack up to its competition?
"The 2015 F-150 is the most capable F-150 yet, while shedding up to 700 pounds," said Bob Fascetti, vice president, Powertrain Engineering. "These two new V6 engines – the 2.7-liter turbocharged EcoBoost and normally aspirated 3.5-liter Ti-VCT – set a new standard for Ford for capability and efficiency."
The high-output, twin-turbo 2.7-liter EcoBoost V6 features a new design that produces 325 horsepower and 375 lb.-ft. of torque – improving the power-to-weight ratio of the 2015 truck by 15 percent over the 2014 5.0-liter V8-equipped F-150 with similar torque output, thanks to vehicle light-weighting.
The 2.7-liter EcoBoost 4×2 has a maximum payload rating of 2,250 pounds and maximum tow rating of 8,500 pounds, ideal for meeting mid-range capability needs.
Boosting 2.7-liter EcoBoost fuel efficiency also marks the debut of standard Auto Start-Stop technology for F-150. This technology, Ford says is specially tuned for truck customers, shuts off the engine when the vehicle is at a stop. When the brake is released, the engine restarts quickly. Auto Start-Stop helps reduce fuel consumption and emissions when the truck is stopped and the engine is off. The technology is off when towing or in four-wheel-drive mode.
RELATED: 2.7L EcoBoost-Ford's 2015 F-150 Not-So-Secret Weapon
The 2.7-liter EcoBoost engine also features Ford's first use of a compacted graphite iron cylinder block in a gasoline engine, the same material used in Ford's 6.7-liter Power Stroke turbo diesel V8 in Super Duty trucks. The composite CGI/aluminum cylinder block saves weight while providing strength where it's needed most for durability.
The 3.5-liter V6 produces 283 horsepower and 255 lb.-ft. of torque with a maximum payload of 1,910 pounds and a maximum tow rating of 7,600 pounds.
The 24-valve 3.5-liter V6 features a valvetrain with direct-acting polished mechanical buckets with twin independent variable camshaft timing for impressive torque across a wide rpm range. Six-bolt main bearing caps, a fully counterweighted forged steel crankshaft and cast exhaust manifolds are designed for heavy-duty operation.
Both the upper and lower intake manifolds of the 3.5-liter V6 are tuned for responsive power, and both the intake manifolds and cam covers are composite-formed to reduce weight. The die-cast aluminum cylinder block features bay-to-bay breathing to reduce internal pumping losses, while a deep-sump oil pan contributes to extended oil-change intervals.