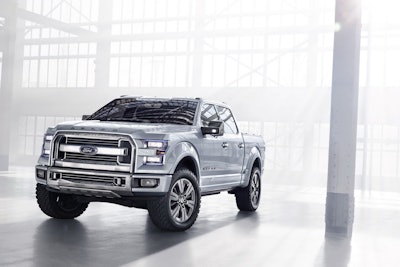 EDITOR'S NOTE: "The birth of a concept truck" is a multi-part series that will publish throughout the month of July that looks in detail at the thought and design processes that go into the development of a concept vehicle.
Practically every third grade boy has had a doodled piece of scratch paper snatched away by his teacher, and Brad Richards is no exception. But he does get the last laugh.
As exterior design manager for Ford Trucks, Richards gets to live out every 10 year old boy's fantasy, letting his imagination run amuck designing pickups for one of the world's biggest truck manufacturers.
At least one of his doodles is destined for greatness beyond his mother's refrigerator door. Richards led the team behind Ford's Atlas concept pickup, which was unveiled in January and ushered in the company's redesigned F-150 set for release later this year.
Vehicle makers from light to heavy use concept vehicles to test new design and function ideas before often incorporating them into production vehicles. The concept vehicles let designers flex their muscles, take risks and get validation from key audiences such as customers and automotive journalists. Sometimes they serve as a technology showcase to prove what's possible beyond the constraints of cost and practicality.
Some concepts come with an added degree of stress: Richards and his team knew Atlas was destined to be a branch in the F-150's family tree; they would be totally revamping the best-selling truck in the U.S. for more than three decades.
"(The F-150) has a long history of success," he says. "So there's a lot of pressure from a legacy standpoint. To me, you can make some mistakes with some passenger cars sometimes – from a design standpoint – and be forgiven. But if you screw up an F-150, the company will feel it. It's very important to get the F-150 right…That's probably the most intimidating thing."
One thing a 30-plus year legacy was good for, Richards says, was providing a detailed customer-base, which made development somewhat easier.
"On a truck like the F-150, our customer is fairly well defined," he says. "It allows us a little more freedom in trying new designs versus trying to find who the customer is."
Writing a new chapter of truck
Sketching on a redesign of the F-150 was already in progress as work on Atlas began, and Richards says the concept became a way for his team to validate some of its ideas.
"We knew that the Atlas was another chapter in the story of the F-150," he says, "so we had a good idea that whatever we did in Atlas had to directly relate back to the production truck, and we wanted customers to see the Atlas and see a production truck."
Much of the team's goal revolved around making the truck look "tougher" and Richards' team was able to integrate some innovations – aside from the all-aluminum body – into the truck and test them visually with consumers at the truck's unveiling at the Detroit Auto Show in January. Since the Atlas didn't have the legacy of the F-150 hanging over it, Richards was able to get feedback without having Atlas compared to the F-150.
His team, along with Ford's upper management, then used that feedback to determine how far they wanted to push the evolution of the next generation F-Series.
"The concept…allows us to gauge consumer reaction to some things…If we're doing something that's a few steps ahead of a typical product generation, the concept can be very crucial for us to see if we've either gone too far or not far enough," he says.
"When we built the Atlas, if it had not been such a success, we would have known that we have a problem in what we think the next F-150 should be and what it needed to feel like," he says. "(The successful development of a concept vehicle) is an early guidepost to tell us what we're doing is right; that we're on the right track."
Click here to read "The birth of a concept truck Part II: Taking the litmus test", featuring the Freightliner Revolution, Navistar International's Project Horizon, the GMC Sierra HD and Ford Bronco.