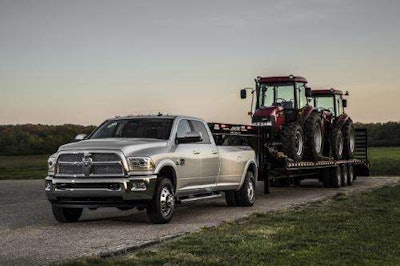 Beginning with the 2015 model year, Ram says it will become the first automaker to adopt the Society of Automotive Engineers J2807 standardized tow rating practices across all three full-size pickup truck segments, including the ½-ton Ram 1500, ¾-ton Ram 2500 Heavy Duty and one-ton "King of the Hill" Ram 3500 Heavy Duty.
"Because our customers asked for it, every single 2015 model year pickup truck Ram sells will come with a trailer-tow rating achieved using SAE's J2807 testing protocols," said Reid Bigland, president and CEO – Ram Truck Brand. "No other automaker can make that claim."
On the heels of finalized SAE towing specifications that now include trucks up to 14,000 GVWR, Ram has validated its full pickup line with the SAE J2807 Towing Standard.
[youtube bpKZ29jrHro nolink]
"Ram Truck has been preparing for integration of the SAE towing standard over the past few years and adding heavier ¾ and 1-ton trucks to the criteria gives it more teeth," said Mike Cairns, director – Ram Truck Engineering, Chrysler Group LLC. "For too long, an uneven playing field existed and towing capacities went unchecked. We're happy to be the only pickup truck manufacturer to align with the SAE J2807 towing standard across our pickup truck line up."
The SAE J2807 towing standard outlines dynamic and performance criteria as it relates to a given vehicle. Examples within the standard include a number of tests while towing: 0-60 MPH time allowance, tackling the notorious Davis Dam Grade while maintaining no less than 40 MPH for single-rear-wheel trucks and 35 MPH for dual-rear-wheel trucks, a constant radius understeer test while increasing speed and a sway maneuver using aggressive steering input.
The purpose is to put all trucks through the schedule of tests in which operators will likely see in the real world. SAE standards have existed in a number of other areas including engine torque and horsepower. Ram Truck is the first to adopt the official towing standard for ½-ton, ¾-ton and 1-ton trucks, according to the company.
2015 Ram SAE J2807 towing capacities:
Ram 1500 V-6 with 3.6-liter gasoline Pentastar – Unsurpassed 7,600 pounds
Ram 1500 V-6 with 3.0-liter EcoDiesel – Best-in-class 9,200 pounds
Ram 1500 V-8 with 5.7-liter gasoline HEMI – 10,650 pounds
Ram 2500 V-8 with 6.4-liter gasoline HEMI – 16,300 pounds
Ram 2500 with 6.7-liter Cummins diesel – Best-in-class 17,970 pounds
Ram 3500 V-8 with 6.4-liter gasoline HEMI – 16,420 pounds
Ram 3500 with 6.7-liter Cummins diesel – Best-in-class 30,000 pounds