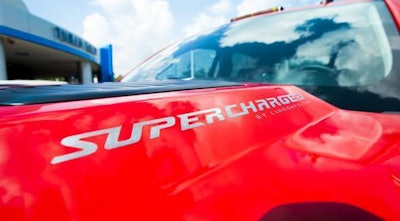 Limited-Edition 2014 "Reaper" Silverado 1500 Now At Select Chevy Dealers
The much anticipated, limited-edition Reaper, a no-nonsense performance off-road edition of the 2014 Chevy Silverado 1500 pickup, is now available at select General Motors dealerships nationwide.
It's not your ordinary work truck, either.
The heavily customized Chevy Silverado can be ordered with a choice of either a 475hp 5.3L or supercharged 550hp 6.2L, in Regular, Double- and Crew Cab, 2WD or 4WD models.
Reapers colors: red, white, gray and black with a long list of standard features that include a three-inch lift, long-travel off-road suspension; Fox Racing shocks; 20-inch exclusive Reaper wheels mounted on General Grabber LT tires; and a Lingenfelter performance exhaust system.
Co-developed by Lingenfelter Performance Engineering and Southern Comfort Automotive, the specialty pickup truck offers drivers enhanced muscular styling, an eye-attracting street presence and amped-up off-road performance.
"The Reaper blends Lingenfelter's legendary performance engine tuning and suspension know-how with Southern Comfort Automotive's expertise in custom styling for a truly unique and exciting vehicle," said Mike Copeland, vice president of operations, Lingenfelter Performance Engineering.
Matt McSweeney, president, Southern Comfort Automotive, adds that the combination of engine performance and off-road capability offered by the Reaper is drawing a lot of consumer interest.
"This vehicle is already creating a lot of excitement on dealer lots," says McSweeney. " OurGeneral Motors dealers are looking to increase the number of Reapers they have available since this custom truck is such a big draw."
The Reaper's style is enhanced with a custom hood fitment and grill assembly, high-clearance front bumper, wide-body fender flares, a wheel-to-wheel rock guard with removable side steps and high-profile exterior Reaper badging.
Custom lighting includes integrated LED driving lights, side front fender marker lights and an integrated off-road flood light system.
The interior is embellished with embroidered headrests, door panel accents, a gauge package and an auxiliary switch panel for flood lights and additional accessory upgrades.
Available upgrades include a Magnuson TSV1900 Supercharged 475hp 5.3L or 550hp 6.2L tuned engine, a 17-inch beadlock off-road wheel and General tire package, bold Reaper graphics and a frozen matte paint finish.
The Reaper package can be ordered in any Silverado 1500 cab style and trim level, two- or 4-wheel-drive.
Prices range from high $40K's for a base level Repaer to a fully optioned High Country Crew Cab 4×4 that has an MSRP of $84,500.
All Reapers carry a three-year 36,000-mile warranty on Lingenfelter upgrades* and Southern Comfort Automotive restyled parts.