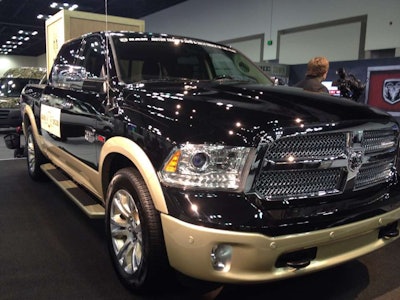 Ram unveiled its 3.0 liter EcoDiesel late last year, and through its development Ram engineers said they wanted to ensure engine availability up and down the line of Ram's 1500 series trucks.
"We wanted to make sure we had that available across our lineup," Bob Hegbloom, director of the Ram brand, says.
The only limitation is in the Ram Sport, which comes standard with 5.7 Hemi engine. "That is a sport power train where the Hemi fits best," he adds.
The company hosted a nearly 30 minute Google 'Hangout' yesterday to field questions from the general public about the truck, the new engine and a wide range of other questions.
Ram tested its EcoDiesel with biodiesel fuel blends up to B20, where Mike Cairns, director of Ram engineering, says the company has not seen any significant change in fuel economy in blend variations.
However, Cairns discourages fueling up with blends above B20.
"Biodiesel over B20 is unregulated, and we've not tested beyond that," he says.
Eventhough the EcoDiesel trucks have only been on the road for a short while, Ram says it has been working with aftermarket suppliers for truck owners looking to customize their ride.
"We love the fact the aftermarket builds things for Ram trucks," Cairns says adding the company frowns on making engine modifications without appropriate research.
"When some of these aftermarket guys make engine modifications, it can be a little bit risky…both for emission outputs as well as durability."
The EcoDiesel engine Ram tapped for its 1500 represents a rare break in a long-standing partnership with diesel engine stalwart Cummins.
Ram favored a 3.0-liter EcoDiesel V-6 from VM Motori, an Italian marine diesel engine manufacturer and former affiliate of now-Chrysler owned Fiat, over the Cummins V8 diesel, which Hegbloom called "too big."
"We feel (the Cummins V8) is a nice engine and it is something that would have worked in our heavy duty truck," Hegbloom says. "That powertrain just did not work for what customers were asking for."
Cairns says light-duty pickup drivers are generally looking to tow no more than 6,000 pounds, and the Cummins V8 provided more capability than necessary while having a negative impact on fuel economy.
"Their payloads are usually empty, or they're hauling a load of dirt, maybe up to 2,000 pounds," Cairns says.
"When we look at those requirements for a half-ton customer, we were really looking for a diesel that would fit those type of capabilities and requirements and really maximize the fuel economy."