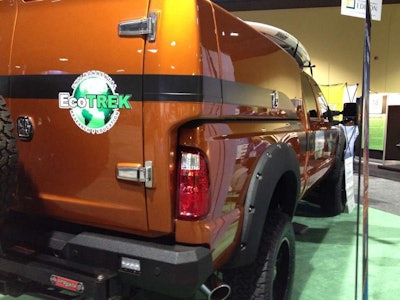 EcoTrek Foundation founder Tom Holm takes "roughing it" to a much more luxurious level.
The exterior of his 2013 Ford F-350 Lariat 4×4 crew cab is aggressive and rugged, but it has a much softer side that's not as easily noticeable. The truck uses Ford's Power Stroke powertrain and factory six-speed automatic, but that's about where the "stock" on this truck ends.
The truck has a 9-inch suspension lift with air bags and rolls on 38-inch BFGoodrich Mud Terrain tires. The engine is powered by an algae-based biodiesel fuel, and thanks to a 50-gallon auxiliary tank underneath the bed, the truck will travel up to 1,800 miles between top-offs.
A SpaceKap shell gives the green camper access from either side and is, essentially, a small rolling house, featuring a kitchen and sleeping space.
A fully-insulated foldout bed tent rests on top of the bed cap and the truck's bumper carries a winch incase you find yourself in a muddy bind while headed to your off-road vacation destination.
The non-profit EcoTrek Foundation works with GM, Ford, Mercedes-Benz, Kia and others to promote the used of renewable fuels and materials in the automotive, RV and transportation industries.
Its stable of vehicles includes a Hummer H2 that runs on used cooking oil.