2014 Ram 1500 Named to AUTOMOBILE Magazine All-Stars Two Years in a Row
The Ram 1500 has been named a
2014 AUTOMOBILE Magazine All-Star
by the publication's editorial staff for the second year in a row and the fourth time in the past five years.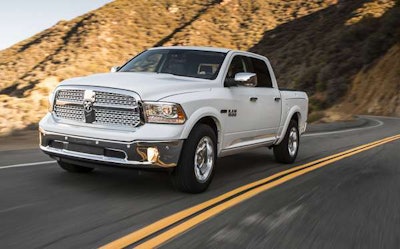 AUTOMOBILE Magazine chooses its All-Stars from the complete array of vehicles on sale in the U.S. for the 2014 model year, including passenger cars, sports cars, sport-utilities, minivans and trucks.
The magazine's collective editorial staff and contributors cast their private ballots after three days of driving a variety of 2014 contenders.
This year, for the first time, the magazine's staff took all 10 winners on a great American road trip, from AUTOMOBILE'S editorial offices in Ann Arbor, Michigan, to New Orleans.

"The AUTOMOBILE Magazine All-Star award doesn't just focus on all-new trucks, but all current model trucks, and the results place our Ram 1500 at the top, four out of the last five years," said Reid Bigland, President and CEO – Ram Truck Brand, Chrysler Group LLC.
"With 28 MPG best-in-class fuel economy and the only diesel available in the half-ton truck segment, the 2014 Ram 1500 is making its mark."
For 2014, the Ram 1500 offers buyers best-in-class 28 MPG fuel efficiency with the exclusive 3.0-liter V-6 EcoDiesel, new technology and new features without sacrificing capability.
"Chrysler doesn't get the credit it deserves for what it's done in the truck segment," said Michael Jordan, West Coast Editor — AUTOMOBILE Magazine.
"First, it reinvented the way trucks look with its big-rig grille. Then it was the first to offer a cabin that held more people and more stuff. Later they did a chassis that would both steer and stop, and now they've delivered a great ride with air springs."
The 2014 Ram 1500 features first-in-segment technologies: diesel engine, eight-speed automatic transmission, stop-start system, thermal management system, pulse-width modulation and active aerodynamics, including grille shutters and active air suspension.

The Ram 1500 is top of the segment, holding the top two spots in fuel economy within the entire pickup truck market, including mid-sized trucks.