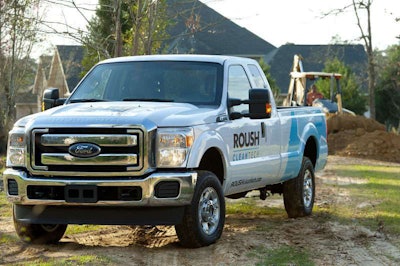 HWT Road Test:
2014 Roush CleanTech 6.2L F-250 4×4 XLT
Running a propane-fueled truck is like driving money to the bank
Being "green" is a good business philosophy and company's that employ it find federal, state and local governments more open to their services.
However, when it comes time to replace worn-out trucks with new ones, a lot of those in the work truck world are still quick to shun the benefits of CNG and LPG over good old diesel and gasoline power.
After all, it's a hard pill for many truck buyers to swallow shelling out the extra cash to get a diesel package, let alone thinking about going the "green" fuel route.
But those times are a changing, and changing fast, especially on the propane autogas side if the pickup market — as I found out testing a 2014 Roush CleanTech F-250.
The infrastructure for fueling is readily available from just about any local propane supplier at little or no cost to the contractor, and the costs for the engine conversions range between $6,000-$12,000 depending on which company and kit is used.
Even though propane "autogas" produces about 25-percent less energy per gallon than the E-10 gasoline we get at the pump today, it still saves a considerable amount of money annually when all the factors are considered.
Autogas' cost per gallon, reduced engine maintenance and extended oil-drain benefits more than pay for the conversion costs in short order according to the folks at Livonia, Michigan-based Roush CleanTech.
That cost-per-gallon edge is readily apparent.
During my week behind the wheel of the 385hp, propane autogas 6.2L 4×4 I refueled it at the local Blossman Gas depot just down the road in Gulfport, MS.
Propane autogas was selling for around $1.85/gallon at the volume fleet price level. In contrast, the big discount gas chain across the highway displayed $3.27 for unleaded E-10 and $3.91 for diesel.
That savings per gallon could easily jump a lot more if the $0.50/gallon alternative fuels tax credit for propane autogas is approved again this year.
Figure that kind of savings into your annual fuel costs and it's easy to see the ROI on the propane conversion comes fairly quickly.
As for refueling, I found out it's just like filling any other pickup: The new fuel dispensers look just like a normal one at any gas station. The only difference is the propane fill nozzle screws on to the filler neck instead of slipping it inside as you would on a gas or diesel rig.
Then you squeeze the handle and in goes the propane, which fills about twice as fast as "normal" fuel.
As for how a propane-powered 6.2L V-8 F-250 runs on propane, it's also the same as a normal gas-powered version.
THE HARD NUMBERS
I took the truck to Gulfport Dragway to get the straight-line performance numbers.
Our computerized Stalker Radar system showed the 4×4 SuperCab, with its 4.30 gears, hit 60mph in 8.9 seconds and ran the ¼-mile in 16.4 sec @ 86.4mph.
Those numbers are almost identical to what I saw last year testing a 2013 F-250 Crew Cab 4×4 running 3.73s and a full second faster than a 2013 running the 6.2L gas engine and 3.73s.
Figure in the difference the 4.30s make in acceleration and it's safe to say the gas and propane engines run identical.
I also ran the truck for 120 miles on flat interstate using cruise control. Fuel economy was as expected for such a low-geared ¾-ton 4×4: 10.6 mpg @70mph (2,100rpm); 8.6mpg city stop-and-go.
Combined fuel economy for another 100 miles of more normal business driving came out to 10mpg with about a 50/50 mix of rural roads and suburban conditions.
By my calculations the driving range with this 4×4's under-bed 21-gallon (useable) propane tank, the smallest Roush offers, is right around 200 miles.
Again, the low gearing in the test truck and propane's lower BTU output contribute to the mpg numbers. Run the same truck with 3.73s, which is the standard axle ratio for the 6.2L F-250 4×4, and I'd expect mpg numbers to be closer to 12-13 on the open road.
And don't forget, propane's price-per-gallon is a lot cheaper than gasoline, which more than offsets any mpg variances between gas and propane autogas.
RELATED: PROPANE PICKUP MAINTENANCE
ON THE ROAD
Ford's longbed SuperCab 4×4 I tested was spec'd out as a true work truck—right down to the rubber floor mats, floor-mounted transfer case shifter, Camper package and 10,000-pound GVWR springs.
The XLT trim brings with it a lot of creature comforts such as A/C, power windows/locks, a decent sound system, cruise control, tilt/telescoping steering wheel, and other conveniences.
It also has manual locking front hubs, trailer sway control and the towing package.
It's seat seat six if you flip up the front split-bench's center armrest, and rear legroom is adequate for adults on short trips. The 60/40 rear split-bench is easy to flip up/down and the floor is flat so you can utilize it all.
The 4×4 configuration, along with the heavy-duty front springs and rear overload springs that come with the Camper package, and 10-ply LT tires filled to 80psi, are great for hauling/towing the big loads, but the trade-off is a rock-hard ride when the truck is empty.
But that's expected for a work truck like this one is spec'd out to be.
So what's my take on propane-power?
If I were buying a new F-250 for work, drove it more than 35,000 miles a year, and was looking at a way to cut my annual operating costs by 25-perecent or more, I'd be having serious talks with the folks at Roush CleanTech and my local propane distributor.
Driving the propane-powered F-250 4×4 is like driving money to the bank; it's green all the way. – BWS
BASIC SPECIFICATIONS
Make/Model: 2014 Ford F-250 SRW 4×4 SuperCab LB
MSRP: $41,830
Price As tested: $53,280
Major Options: Roush CleanTech Conversion ($11,500); 4.30 electronic locking diff ($390); gaseous bi-fuel prep ($315); Camper package ($160)
Engine: 385hp 6.2L V-8 w/ Roush CleanTech Propane Conversion
Transmission: 6-speed automatic
Axle Ratio: 4.30:1 w/ electronic locking rear diff
Fuel Tank: Propane/21 useable gallons
Fuel Economy (Observed): 10.6mpg hwy/8.6mpg city
Tow Rating: 12,500 lbs (Conventional); 15,300 (gooseneck/5th wheel)
Performance:
0-60mph: 8.9 sec
¼-mile: 16.4 sec @ 86.4mph
Braking, 60mph-0: 136.6 feet