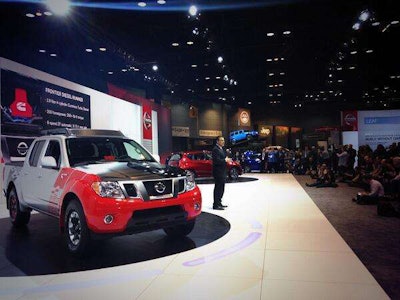 Nissan Tips Hand With Showing Of Cummins-Powered Frontier
Concept 2.8L Turbo Diesel Unveiled At Chicago Auto Show Further Demonstrates Cummins Commitment To Innovation For The Pickup Truck Market
Nissan and Cummins are setting their sights on more than just offering a full-size 1/2-ton pickup with diesel power, a plan that was announced several months ago with the Nissan Titan news.
Nissan is also looking at having a 2.8L Cummins turbo diesel offering in the next generation Frontier mid-size trucks.
At least what we are lead to believe with the Nissan Frontier Diesel Runner concept/project truck being shown at the Chicago Auto Show.
The heart of this vehicle is a concept 2.8L turbo diesel engine – developed at the Cummins Technical Center in Columbus, Ind. – that produces approximately 200 hp and over 350 lb-ft of torque.
Nissan says this concept 2.8L has been matched with a Nissan Frontier Desert Runner 4×2 in a project to evaluate the viability of this package for North America.
Cummins has been powering pickup trucks around the world for over 25 years, with engines including the B3.9, 5.9 and 6.7-liter Turbo Diesels.
RELATED: The Story Behind Cummins/Nissan Partnership
The 5.0L V8 Turbo Diesel for the next-generation Nissan Titan and the ISF2.8, used in markets outside the United States, are the latest production engines to power the pickup truck market.
"These trucks really highlight modern clean-diesel engine characteristics, with the durability and power that Cummins customers have come to depend on," said Dave Crompton, Cummins Vice President and General Manager – Engine Business.
"The Nissan Frontier is a great platform to demonstrate the potential of a Cummins-powered compact pickup for the U.S. market, and this project will help to gauge market reaction and evaluate future plans."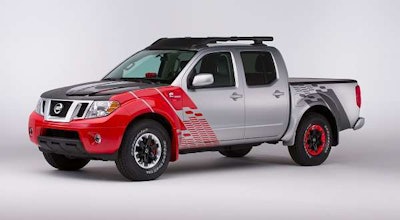 In addition to these 2.8L-powered concept trucks and the new 5.0L V8 Turbo Diesel for the next-generation Titan, Cummins, Johnson Matthey and Nissan have partnered on the U.S. Department of Energy (DOE) ATLAS research project.
The cost-shared research program is instrumental in developing new diesel engine and emissions-control technology to meet future emissions regulations and demanding fuel-economy requirements while delivering Cummins performance and durability.
The custom Nissan Frontier Diesel Runner – Powered by Cummins on display is one of two trucks specially repowered by Cummins to demonstrate the latest in diesel capabilities.
BY THE NUMBERS: Specs for the Cummins 2.8L
"The Chicago Auto Show is America's oldest and largest show and Nissan always likes to bring something new and exciting," says Fred Diaz, senior vice president, Sales & Marketing, Parts & Service, U.S.A, Nissan North America, Inc. "This year we're covering two ends of our product spectrum – a one-of-a-kind powerful turbo diesel-equipped Frontier mid-size pickup and a sporty new look for our popular Versa Note, the 2015 Versa Note SR. Both are great representatives of 'Innovation that excites.'"
At the heart of the Frontier Diesel Runner is a 2.8-liter 4-cylinder diesel engine producing nearly 200 horsepower and more than 350 lb-ft. of torque, while increasing fuel economy 35 percent over a V6-powered 2014 Frontier 4×2, Nissan says.
Special exterior modifications include a custom "Arrest Me Red" and Matte Silver paint treatment, aerodynamic full-bed tonneau cover and tailgate spoiler, and a transparent acrylic hood insert that provides as a window to the engine bay, where all powertrain-related elements continue the red theme.
The 16-inch wheels, borrowed from a Frontier PRO-4X, have been treated with a special two-tone paint – Arrest Me Red for the rear wheels and silver in front, each accented by satin black paint.
The brake calipers have also been custom painted in contrasting colors – silver rear and red front.
The Frontier Diesel Runner's interior mirrors the silver and red exterior design, with red accents throughout and carbon-trimmed seats and panels.
The front and rear seats feature carbon-print leather appointments with grey accent stitching and black-on-black "Tracks" embroidery.
The carbon film-wrapped instrument panel is highlighted by red-tined gauges and a special black-faced diesel-specific three-gauge pod on top of the C-cluster.