High Sierra GMC; Colorado seat time brings out 2500HD diesel's true personality
Professional grade. What better standard of quality could a contractor strive for in their work – or their choice of a work pickup? At least that's been GMC's marketing cry while promoting the virtues of their Sierras for the past decade or so.
They should know what it takes to build a good pickup, being the oldest pickup manufacturer in the world, rolling out the first GMC models in 1914.
The 3/4-ton 2011 GMC Sierra HD2500 we used to do all the snow tire tests in this issue is a far cry from the one the U.S. Army used to pursue Pancho Villa into Mexico in 1916. Ninety-five years ago the 33hp four-cylinder was the talk of every construction site.
Today the Sierra Crew Cab 4×4 can be ordered with the 6.6L Duramax V8 /Allison automatic package ($8,000) that makes 397hp and 765 lb-ft of torque neatly hidden in a pickup that exemplifies passenger comfort and professional grade quality.
All of the Sierra HD's features were put to the test in Colorado. Winter storms kept adding fresh snow and ice to the road surfaces in the Steamboat Spring area while we there, which meant we had opportunity to experience the pickup's winter driving capabilities and comfort features in real world conditions.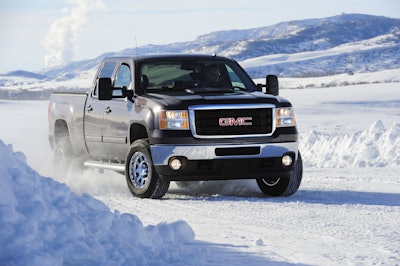 Our Sierra was equipped with the optional onboard WiFi system, which is great connectivity feature that turns your vehicle into a rolling hotspot for internet connections.
Many contractors will find this to be a useful feature for in-cab office work for email and document sharing such as downloading blueprints and other docs from home office.
Attention was given to USB connectivity, Bluetooth connectivity, multiple storage compartments and multiple 12v charge points.
However, there are no 120v inverter outlets available; should be standard for "professional grade."
As always, the Duramax/Allison drivetrain was smooth and strong and quite impressive in snow conditions, delivering power linearly.
Acceleration was smooth without the turbo coming on too harshly, which can cause a traction event. This made it easier than expected to drive on snow and ice.
The turbodiesel responded well to the higher elevations and cold weather in the fuel economy category as well, delivering a respectable 19.7mpg on several 65mph dry-pavement runs between Steamboat Springs and Hayden.
While the Sierra HD 4×4 diesel is a pleasure to drive in most weather conditions, packed snow and icy roads are a different story. The stock M/S-rated Goodyear SR-A tires slip and slide when white powder gets sheen, requiring a considerable slowing down in driving style.
Another annoyance in the winter is the reverse sensors and the backup camera. The sensors really don't like ice and snow as we were constantly reminded by a warning indicator. So we ended up turning them off as if we were towing a trailer.
The backup camera, which works well when clean, was easily obstructed by blowing snow on the back of the vehicle, which had to be cleared to make the camera of any use.
But those minor inconveniences were our only complaints. Fuel economy, power, ride and handling and interior appointments are everything a business owner would find attractive as both a rolling office and family vehicle for those weekend outings.
We made frequent use of the Sierra's cold-start/remote-start feature and the heated seats (a must with leather), which are great convenience items in snow country.
We made use of the rear seats to take our business guests to dinner and folded the seats up to handle all our gear.
Overall the GMC SLE Sierra HD Crew Cab is comfortable, roomy and well appointed. For all of its refinements, it is also a serious work machine with world class tow/haul capabilities.
The Sierra HD 4×4 we tested has a maximum towing capacity of 13,000 pounds on-the-ball and 16,700 pounds using a gooseneck or fifth wheel. And there's no requirement to use a weight-distributing hitch when pulling a tow-behind trailer like you'll find on the competitor's heavy duty pickups.
GMC also has a Snow Plow Prep Package available, which equips the Sierra HD to handle the most current hydraulic snow plows. It upgrades the front Gross Axle Weight Rating to 6,000 pounds on diesel-equipped models, while the torsion-bar front suspension allows you to make seasonal ride-height adjustments in minutes, with a single wrench.
Yes, GMC knows what "professional grade" means.