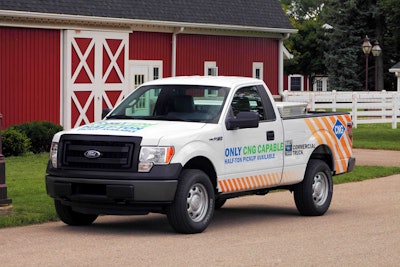 Earlier this month, Ford announced plans to launch a compressed natural gas/propane engine option for the 2014 model year Ford F-150.
Our sister site, Equipment World, recently sat down with Ford's Dick Cupka, the automaker's product development sustainability manager for commercial vehicles, to learn more about these new trucks.
Cupka says Ford's factory in Kentucky puts these trucks out with upgraded materials for the valves and valve seats, anodized pistons and a special piston ring set, before shipping them to one of the company's seven Qualified Vehicle Modifiers for installation of the fuel tanks and lines.
From there they go to the Ford dealer and the customer.
And while you can't use two gaseous fuels in one truck, you can spec your truck to run on one of these fuels plus gasoline.
"We've got a ton of people working on bi-fuel, gasoline-CNG right now," Cupka told Equipment World. "We don't have anybody working on bi-fuel propane-gasoline. It's possible but they're not doing it right now."
To read the full interview, which includes information on tank specs and maintenance, click here.