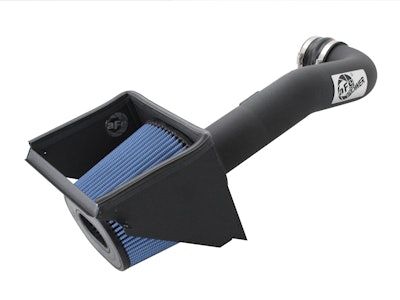 aFe Power says it has releases an air intake system for model year 2009-13 GM Silverado/Sierra 1500 V8- 5.3L (GMT900) with electric fan only.
This Stage-2 air intake system combines a 3-1/2-inch diameter black powder-coated aluminum tube and a massive 7-1/2-inch air filter with inverted top to generate 32 percent more air flow.
In recent testing, the company says this system produced 13hp and 16lbs. x ft. of torque. The air intake is enclosed in a durable 18-gauge heat shield that utilizes the lower half of the factory air box that requires no assembly for a hassle-free 15 minute installation.
This intake utilizes an oval conical Pro 5R performance air filter with inverted top for maximum flow. This 5-layer progressive, oiled cotton gauze air filter provides maximum flow for increased horsepower and torque. This intake system is also is available in the Pro Dry S air filter, and oil-free synthetic media. The Pro Dry S provides a dramatic increase in airflow for improved horsepower and torque performance with 99.2 percent filtration efficiency.
aFe Power developed a heat shield to snap onto the top of the lower half of the factory air box to provide a hassle-free installation utilizing factory mounting locations. This intake replaces the factory intake box and the factory inlet tube.