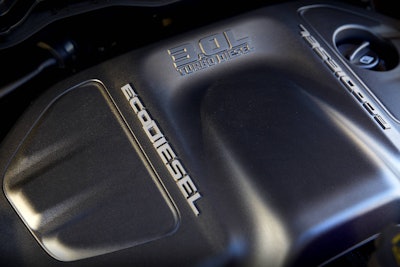 Ram says it has finalized towing numbers for its Ram 1500 EcoDiesel, putting the new engine on par with larger V-8 power plants.
In a 2WD, two-door, long bed configuration, Ram says the new EcoDiesel will tow up to 9,200 pounds, approaching much larger displacement V-8 towing capability with its 3.0-liter V-6 and fuel efficiency of better than 25 MPG on the highway.
By comparison, Ram says the conventionally fueled 305 horsepower V-6 in the 2014 Ram 1500 received best-in-class towing honors with a 7,450 pound capacity.
To reach the best-in-class number, Ram powertrain engineers added a more robust parking gear to the exclusive 8-speed TorqueFlite 8 for a higher capacity rating.
"There was more towing capacity in the V-6 Ram 1500 but we needed to upgrade the transmission to hold the truck and trailer when parked on steep grades," said Mike Cairns – Chief Engineer, Ram Truck. "Now that we're building the transmissions ourselves, the improvements are included in the new assembly. "