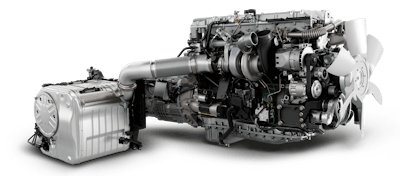 International Truck on Tuesday unveiled its new in-house designed and engineered powertrain – the first new International on-highway product since regulators approved Volkswagen subsidiary Traton Group's takeover of Navistar last July.
When Paccar debuted its 12-speed Eaton-engineered automated transmission in 2017 for its Kenworth and Peterbilt models, Navistar became the lone major North American truck OEM without a vertically integrated powertrain. That same year, then-Volkswagen Truck & Bus formally took a more than 16% ownership stake in Navistar, and following more than five years of development alongside commercial truck sibling brands Scania, MAN, Volkswagen Caminhões e Ônibus and RIO, the all-new International S13 Integrated Powertrain was born – "integration built on collaboration," said Michael Grahe, Navistar executive vice president of operations.
Deploying a modular design approach that allows for wide customization, the S13 Integrated Powertrain consists of three distinct components: an engine, a transmission and an aftertreatment system – all designed and developed concurrently to ensure compatibility and integration between the systems.
The engine & aftertreatment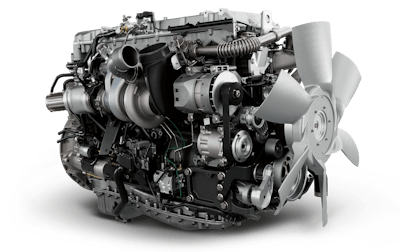 The heart of the new powertrain is the 13-liter International S13 engine and its seven engine rating options, offering up to 515 horsepower and 1,850 lb-ft of torque.
"We see the future as predominantly a 13-liter market because it offers the best weight to power ratio," Grahe said, adding International's 12.4-liter A26 engine will eventually be phased out.
Navistar expects that half of all its new vehicles sold by 2030 will be zero-emission before hitting 100% in 2040.
"The internal combustion engine will be required for many years," said Navistar President and CEO Mathias Carlbaum, noting the S13 was "the greatest leap toward carbon neutral transport ever by our company… but this is the last combustion engine that we will ever develop."
Built from the 12.7-liter displacement Scania Super, the low-rev, high-torque setup of the S13 engine allows for fewer fuel injections and lower fuel consumption. The S13 engine doesn't have an EGR cooler (selective catalytic reduction is the primary means of emissions reduction) and flows 100% of the exhaust to the fixed geometry turbocharger – a process that ensures a more complete fuel burn and allows cleaner air to enter the combustion chamber on the intake cycle to mitigate soot buildup while increasing power. The loss of a variable geometry turbo and EGR cooler eliminates about $6,000 in potential repair, said Navistar Director of On-highway Marketing Darin Vehlewald.
The elimination of the EGR cooler from the combustion process also reduces the amount of soot and particulate matter, and the cleaner combustion cycle allows for extended service intervals while also eliminating the need for an active regeneration cycle and the diesel oxidation catalyst. David Hillman, Navistar director integrated powertrain marketing added that EGR is only used to keep the catalyst warm.
Low friction materials and finishes are used for the liners, rings and bearings. The design eliminated the downstream fuel injector and the high-pressure fuel pump operates at a lower pressure of 1,800 bar (International's A26 engine operates at 2,500 bar). Hillman said the reduction in pressure creates less internal friction and puts more power to the wheels.
Additional engine features include a dual overhead cam design and cast aluminum cam cover and oil pan, 23:1 compression ratio (A26 is 20.5:1) and a compression release brake for maximum engine braking power. The compacted graphite iron block of the S13 engine combined with a cast aluminum cam cover and oil pan help make this the lightest weight 13-liter powertrain available in North America, and about 30 pounds lighter than the combination of International's A26 engine, Eaton 12-speed Endurant and Cummins aftertreatment system.
The aftertreatment system includes a dual-stage SCR catalyst system in a compact one-box design.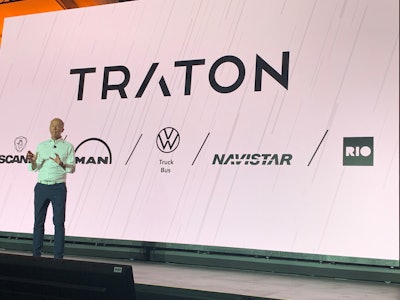 The transmission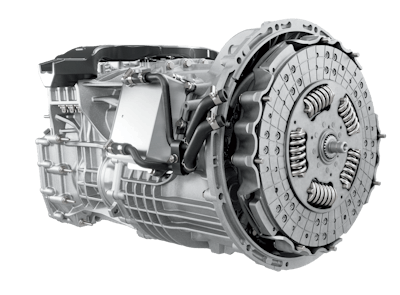 Behind the new 13-liter diesel is the International T14 – a 14-speed fully automated manual transmission and the first commercial transmission offered by International.
If the engine is the heart of the new powertrain, Göran Nyberg, Navistar executive vice president of commercial operations, said the transmission "is kind of the brain."
Hillman stressed that the new gearbox is fully automated and was not adopted from an existing manual transmission. "It was never designed to be anything else other than fully automated," he said.
The T14 features a planetary gear set that supports a compact design and optional programmable reverse speeds. This transmission has two crawler gears for improved heavy load startability and low-speed maneuvering. Complete with deep low-end gearing and shifting smoothness, the T14 delivers efficiencies of a direct drive in an overdrive package.
As part of the clean sheet design, shifting logic and integrated software controls maximize efficiency and performance, resulting in gear shifting that is synched to engine revolutions.
The electronic clutch actuator facilitates smoother, faster shifting. Its controls are integrated with the engine to deliver improved shifting performance and that its electronic, it does not consume system air – handy during high back and forth maneuvering.
The S13 Integrated Powertrain offers increased power, with the full torque available at 900 RPM to support drivability. Drivers have shift-on-the-fly capabilities with Economy, Performance and Performance+ modes. Also included are intelligent shifting capabilities, like skip shifting and turning radius offsets.
In addition to multiple shifting capabilities, the T14 transmission includes options for low-speed maneuvering, hill hold and initial vehicle movement modes.
OnCommand Connection, Navistar's connected services platform, will come standard on units spec'd with the S13 Integrated Powertrain and offer programmable parameters, over-the-air calibration changes and software updates. International 360, Navistar's service communications tool designed to accelerate the repair process and streamline dealer communications, is also an available option to customers.
The S13 Integrated Powertrain will be standard on LT and RH Series trucks and will be built at the company's recently expanded Huntsville Powertrain Manufacturing Plant in North Alabama beginning next summer. Navistar in February 2020 broke ground on a 110,000 sq. ft. expansion of the Huntsville plant with an initial $125 million investment. An additional $65 million has since been contributed to accommodate increased manufacturing capabilities and to support future growth. Order books will open in October.