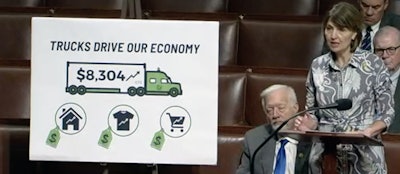 The U.S. House of Representatives on Tuesday voted to revoke the recently implemented Environmental Protection Agency's (EPA) Heavy Duty Truck Rule, joining the Senate who narrowly passed the same measure last month. The vote is hardly a win in either chamber and is likely little more than ceremonial, as it now heads to the desk of President Joe Biden who said last month that he would veto it.
Rep. Buddy Carter (R-Georgia) took the opportunity Tuesday afternoon to point out the "radical" nature of EPA's rule, citing that the movement to overturn it originated from the Democrat-controlled Senate, and one Democrat crossed the aisle to push the measure through by a single vote. Passage in the Republican-controlled House was far less close (221-203) and mostly mirrored party lines with the exception of four Democrats who joined the charge to repeal and one Republican voting against.
Tuesday was a big day for the transportation industry in Washington as the House Transportation & Infrastructure Committee also approved five bills aimed at boosting transportation safety and efficiency, including truck parking and CDL testing. (Read more here)
Ahead of Tuesday's debate, more than 150 House Republicans penned a letter to EPA Administrator Michael Regan Monday, calling the Heavy Duty Truck Rule the "latest effort by the Biden administration to commandeer America's transportation sector and force its complete vehicle electrification under the guise of mitigating climate change."
[Related: Truckload Carriers Association says current emissions regs simply hope for an unlikely best]
The rule currently in the crosshairs is different from other recent legislation that would require electrification in some form over a series of years, and California Rep. Sydney Kamlager-Dove (D) charged that emissions have become a political football as the country approaches default on its debt payments next month.
"After years of insufficient federal action to address our climate crisis, Democrats came together to enact this historic law (the Inflation Reduction Act), and we cannot go back," she said Tuesday morning. "Unfortunately, Republicans will roll back environmental safeguards and are currently working to use our economy as a bargaining chip to erase major clean energy provisions in the IRA through debt limit discussions."
Announced in December and in effect since late March, the Heavy Duty Truck Rule establishes emission limits for nitrogen oxide (NOx) from commercial trucks beginning with the 2027 model year, tightening tailpipe NOx limits to a level 80%-plus below the current standard and reducing the particulate matter limit by 50%. The agency also will require that OEMs extend warranties to 450,000 miles from 100,000 and useful life limits to 650,000 miles from 435,000 miles.
Bill Johnson (R-Ohio) said Tuesday EPA's "unworkable rule" fails to recognize that current generation trucks are 98% cleaner than previous-generation diesels and have already led to significant public heath gains in the last 20-plus years, adding, "at some point you start to see diminishing returns."
Speaking from the House floor Tuesday morning, Rep. Michael Burgess (R-Texas), called it "bewildering" that Democrats would "reward the courage and perseverance" trucking companies showed during the COVID-19 pandemic "with onerous and expensive new regulations that will have a devastating effect upon their livelihoods."
Lawmakers and trucking groups have argued that EPA's regulations would make trucks more expensive, thus slowing down fleet renewal cycles and effectively keeping older and less efficient trucks on the road longer.
"It's going to defeat the very purpose this rule was set out to do in the first place," Johnson said. "They're just going to keep driving those trucks until they drive the tires off of them."
EPA estimated technology necessary to comply with the standards set by the new rule will result in new costs ranging from $2,568 to $8,304 per vehicle, but the American Truck Dealers Association estimates it could be much as $42,000 per truck. Rep. Cathy McMorris Rodgers (R-Washington) noted increased equipment costs would certainly trickle down to higher consumer goods and food costs.
"Truckers care about clean air as much as anyone else, but are also on the front lines of the supply chain with over 70% of America's freight relying exclusively on trucking," said Todd Spencer, president of the Owner-Operator Independent Drivers Association (OOIDA). "Mandating equipment that has historically led to major engine reliability issues under an unrealistic timeline will have devastating effects on the reliability of America's supply chain and ultimately on the cost and availability of consumer goods."
[Related: The fight over EPA's new emissions regs]
Rep. Frank Pallone (D-New Jersey) called the vote to repeal a "baseless attack on EPA's Clean Air Act authority," adding its repeal would set the country back "years" in modernizing the transportation sector. Citing heavy trucks' disproportionate emission levels compared to their share of the highway, Congresswoman Teresa Leger Fernández (D-New Mexico) said repealing the rule ties the EPA's hands in its ability regulate and improve air quality.
"We must keep our air clean. The number of deaths and asthma in children that would not survive and be hurt if this rule goes into effect would be horrible," she said, "and I need to tell you that each child who would not be able to breathe because of the air polluted is the child that I think about when I vote on this bill..."
Further, Pallone noted that the cost savings coinciding with improved public health via better air quality – to the tune of $200 billion, he said – far exceed any costs heaped upon the trucking industry as it seeks to comply.
Texas lawmakers squared off on Capitol Hill over air quality, with Republicans Burgess and Chip Roy clashing with Lloyd Doggett (D-Texas), the latter of which pointed out that last December's EPA action – which he called a "modest heavy-duty truck rule" – is "the first updating of this pollution standard in 20 years."
"With their fossilized thinking and their smoggy judgment," Doggett said, "Republicans are permitting our planet to overheat, and with this rule rollback, they would ensure that we keep choking during the overheating... Democrats and Republicans may not see eye-to-eye on much, but we should be able to be clear on smog. It shouldn't be a partisan issue. Once upon a time – long, long ago – conservation was a conservative value."