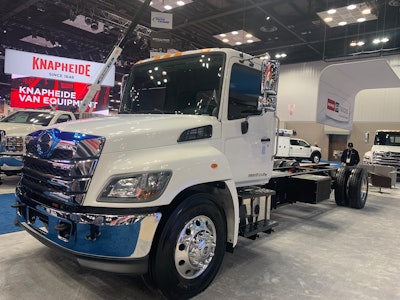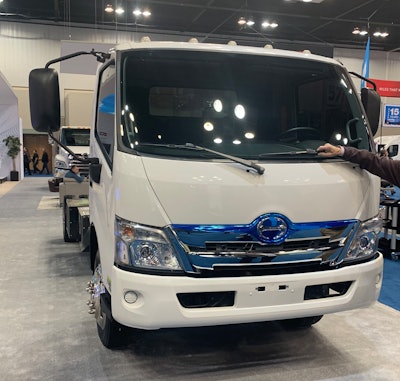 Hino, at Work Truck Week in Indianapolis Wednesday, rolled out fully electric versions of its M- and L- Series medium duty trucks, which the company will brand the Me Series and Le Series, respectively.
Available in 2024, the Class 5 M5e cabover and Class 6 L6e conventional models integrate SEA Electric's SEA-Drive power system and come equipped with battery capacities of 138kwH (up to 190 miles) and 220kwH (up to 160 miles), respectively.
Hino Trucks President Glenn Ellis said the company's dealer network is already prepared for the forthcoming electric products, each having already undergone high-voltage training from Hino's previous hybrid product and are capable to service electric vehicles "safely and efficiently," he said.
Ellis said Hino is also building infrastructure to support the trucks with Hino INCLUSEV, a portfolio of end-to-end electric vehicle enablement exclusively available through Hino's dealer network. This is a customer centric, dealer unified end-to-end EV enablement solution that includes consulting, sales, infrastructure, single-source financing, support and service.