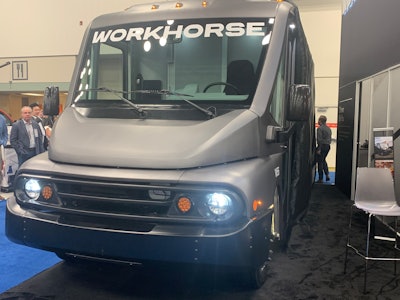 Workhorse on Wednesday during Work Truck Week in Indianapolis unveiled its W56 step van model, the company's new fully electric Class 5/6 truck and the third battery electric model in the Workhorse lineup.
Available in a number of work truck configurations, the zero-emission delivery work van features a payload capacity of up to 10,000 pounds and features a range of up to 150 miles. The W56 also offers a large 1,000-plus cubic foot cargo box with lowered step-in and wide cabin door for easier entry and exit.
Following roughly 18 months of development, the W56 is the first fully-designed, purpose-built chassis platform built from the ground up out of Workhorse's Union City, Indiana, plant.
Customer demonstration vehicles are expected to be ready in the coming weeks before regular production begins in the third quarter of 2023.
Workhorse CEO Rick Dauch said the debut of the W56 signals "the caliber of trucks that we will produce for years to come," adding that it also "incorporates the extensive on-road learnings of our legacy vehicles and improves upon those models with a new custom-designed chassis... We look forward to starting production and making initial deliveries later this year."
The W56 joins the W750, a Class 4 step van featuring 150 miles of range equipped with 750 cu ft. of interior storage volume and 5,000 pound payload capacity, and the W4 CC, a cab chassis offering up to 150 miles of range and 7,000 pounds of payload capacity.