Texas is widely known and beloved for its barbecue but has become infamous (and loathed) for its traffic.
The Lone Star State placed 13 locations – the most of any single state – on the top 100 most congested bottlenecks for trucks in America list compiled annually by the American Transportation Research Institute, including nine in the Houston metro area.
"Everything is bigger in Texas, including our traffic challenges," said Texas Trucking Association President and CEO John D. Esparza. "Trucks are the primary movers of freight in this state and when those trucks are stuck in traffic, our economy, our roadway safety, and our environment are all negatively impacted. The good news is that ATRI's annual analysis provides the roadmap for where infrastructure investments should be made to keep Texas moving."
The 2023 Top Truck Bottleneck List measures the level of truck-involved congestion at more than 300 locations during the 2022 calendar year. The analysis, based on an extensive database of freight truck GPS data, uses several customized software applications and analysis methods, along with terabytes of data from trucking operations to produce a congestion impact ranking for each location. ATRI's truck GPS data is also used to support numerous state and federal freight mobility initiatives.
For the fifth year in a row, the intersection of I-95 and SR 4 in Fort Lee, New Jersey, at the George Washington Bridge is the top freight bottleneck in the country.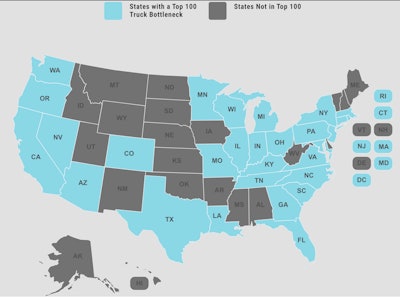 Top 10 bottlenecks
2. Chicago: I-294 at I-290/I-88
3. Houston: I-45 at I-69/US 59
4. Atlanta: I-285 at I-85 (North)
5. Atlanta: I-20 at I-285 (West)
6. Chicago: I-290 at I-90/I-94
7. Los Angeles: SR 60 at SR 57
8. Los Angeles: I-710 at I-105
9. Nashville: I-24/I-40 at I-440 (East)
10. San Bernardino, California: I-10 at I-15
ATRI's analysis showed that traffic conditions continue to deteriorate from recent pandemic-affected years as more motorists return to work. Average rush hour truck speeds last year were 36.3 MPH, down more than 6% from the previous year. Among the top-10 locations, average rush hour truck speeds were less than 30 MPH. During calendar year 2020, average rush hour speeds reached 43 MPH with most of the country sheltering in place.
"The past year-plus has shone a spotlight on our supply chains, and how congestion and other pressures can hurt the American economy and consumers," said American Trucking Associations President and CEO Chris Spear. "ATRI's bottleneck report highlights the areas of our transportation network in need of investment so we can get goods and people moving. The cost of doing nothing is felt in needless delays, wasted fuel and time."