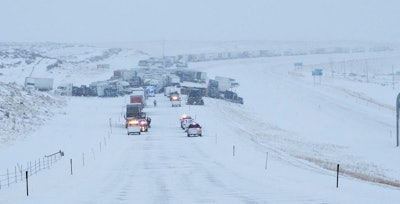 All photos in this story courtesy of Wyoming DOT
Interstate 80 in Wyoming closed again on Tuesday morning after high winds and low visibility caused yet another crash. The interstate has been closed on and off after a winter storm induced white-out conditions and snarled traffic last Thursday, leaving motorists stranded en route.
As of this Thursday morning, sections of I-80 remain closed for "Light, High Profile Vehicles Due to Gusting Winds and Slick Conditions," according to the official website.
"I80 CLOSED between Laramie and Cheyenne. Closure is due to crashes and winter conditions. 50+ mph winds have created significant blowing and drifting snow, and poor visibility. Whiteout/ground blizzard conditions early Tues morning 1/31 thru Wed evening 2/1," Wyoming's DOT wrote on Twitter on Tuesday.
On Saturday, within two hours after I-80's reopening after Thursday crashes, two more pileups (one involving a whopping 44 vehicles) resulted in injuries and a single fatality, shutting down the roadway again.
[Related: One way to make the most of the time when the road is closed: A parking lot feast with Thomas Remington]
"A large crash involving many vehicles occurred around 1:30 p.m. at mile post 266 [on] I-80 westbound. This large-scale event will take the Wyoming Highway Patrol hours to investigate and the road will be closed for an indeterminate amount of time," said the Wyoming Department of Transportation on Saturday of the larger pileup on Saturday.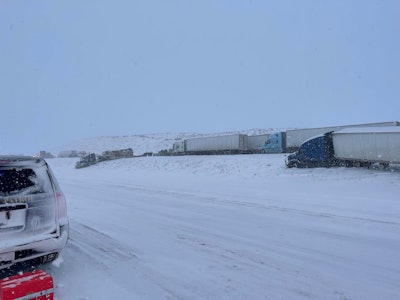 For the most up-to-date information on I-80s status, click here or call the 511 number.
Many commenters on WYDOT's social media pointed to pictures posted from highway cameras in disbelief that the state would reopen the road in such snowy conditions, but the episode likely serves as an important reminder for anyone trucking: The simple fact that a road is open doesn't mean it's safe.
[Related: Roads 511: Highway information in real time]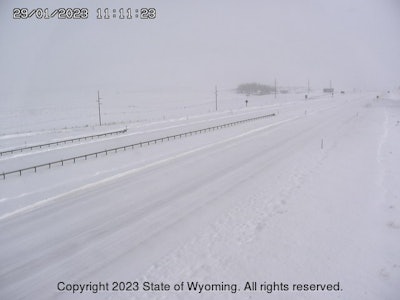 "What we do in Wyoming specifically is we have variable speed limit signs," said Staley. "I-80 is an 80-mph interstate, but we can reduce that, and we reduced down to 45 and tried to encourage everyone to reduce speed because we knew conditions were pretty treacherous." She went on to admit that I-80, regardless of conditions, can "become a race track" after drivers have been stranded, but stressed that maintaining slower speeds and more distance between vehicles does help.
For the professional truck drivers, that can be a big ask. One driver pointed her ire at the FMCSA, seemingly arguing that hours of service regulations too heavily incentivize pushing the envelope in dicey conditions.
"Dear @FMCSA," wrote Michelle Kitchin on Twitter. "You can micromanage the trucking industry by using the word safety, but you are NOT, in reality, making anyone on the roadways safer. This happened within an hour of reopening. There will be a bazillion excuses, but no solutions (again/still)."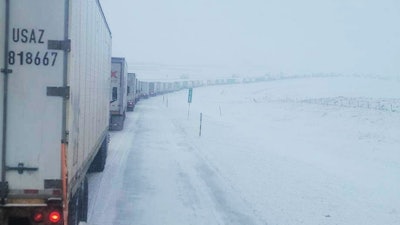 Staley said WYDOT took special precautions when reopening I-80 by "doing a staggered open with patrol cars setting the pace." She sided with drivers using their best judgement in icy conditions, and suggested checking on live cameras showing highway condition, but cautioned that they only show certain locations and snapshots, and that there's no substitute for owner-ops ensuring their own safety.
First and foremost, as so many experienced owners have advised, trust your own eyes and experience, and don't allow any authority, whether a dispatcher or state authority, to dictate driving decisions.
[Related: Winter trucking tips that could actually save a life]