Trucking news and briefs for Tuesday, Jan. 3, 2023:
California bans 76,000 trucks
California's ban on trucks with pre-2010 emissions spec engines took effect Jan. 1, effectively banning an estimated 76,000 trucks from the state's highways.
As of the start of 2023, all trucks with 2009-and-older engines are prohibited in the state.
Part of the California Air Resources Board's enforcement mechanism this go-around is to prevent registration or renewal of any such vehicle — the default CARB and the California Department of Motor Vehicles will use in that regard is an assumption that truck model years 2008 through 2010 are powered by by 2007-2009 engines. Unless owners take steps with the agencies to prove otherwise, registrations/renewals will be blocked.
Drivers who do own a 2010 model year truck with a 2010 model year engine can report that their engine is compliant through CARB's Excluded Diesel Vehicle Reporting data base (EDVR).
An analysis from Overdrive sister company RigDig Business Intelligence found 75,951 unique VINs for 2007-2009 model year trucks with some level of activity in California over the last five years, including registrations and inspections.
Ohio vintage truck show set for June
The 11th annual Ohio Vintage Truck Reunion is set for the weekend after Father's Day this year, June 24-25.
Put on by various Ohio chapters of the American Truck Historical Society at the Ashland County Fairgrounds, the 9 a.m. to 4 p.m. two-day event will feature hundreds of vintage trucks, a truck model contest, a trucking memorabilia display, a parts swap meet, on-site camping, a "Country Convoy," and plenty of food as well as a variety of other activities.
The 2022 show attracted more than 250 trucks. Organizers say a van full of food and more than $5,200 was collected for the Ashland Food Bank and Shriner's Transportation Fund at last year's show.
The Ashland County Fairgrounds is located about 53 miles southwest of Akron.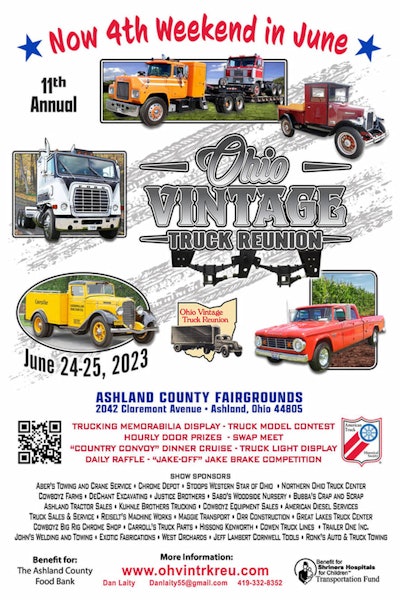 Driver named Highway Angel for helping trainer who was having allergic reaction
Eric Weed, a Melton Truck Lines driver based in Oklahoma City, has been named a Highway Angel by the Truckload Carriers Association for coming to the aid of his trainer, Scott, who was having a severe allergic reaction to coconut while the two were on a training trip.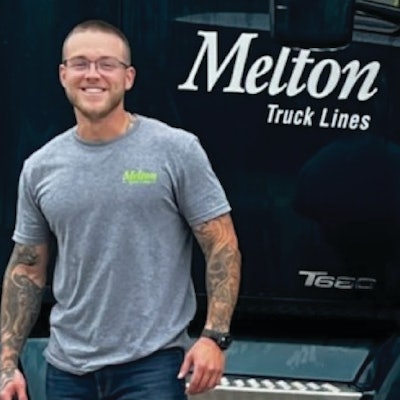 In October, while at a restaurant in Orlando, Scott somehow ingested coconut, to which he is severely allergic.
"He just starts sweating bad and starts turning purple and blue," Weed said. "He started shaking and said 'I think I was exposed to coconut.'"
Scott usually carries an EpiPen to counteract allergic reactions, but he had left it in his backpack in his hotel room. Weed rushed to order a rideshare service to get them back to the hotel, as Scott became progressively more ill.
"He was still sweating like crazy -- I was ready to call 911," Weed said, but Scott insisted he would be OK once they got the EpiPen.
Upon return to the hotel, Weed made a mad dash for Scott's hotel room and quickly retrieved the EpiPen. After getting the shot from the allergy-counteracting pen, Scott seemed to get better.
"I got him some water and hung out and watched him for two hours until he was good," Weed said. "I'm glad I was there and glad it all worked out."
Scott made a full recovery, and the two men were able to complete training. However, Scott believes Weed's quick response helped save him from a more severe or life-threatening situation.